Medical transformation
Medical Affairs of a global biopharmaceutical company experienced difficulties dealing with questions about the price of a drug in Europe. How to explain the value? How to have more value-based discussions with stakeholders?
The client identified the need to integrate value into discussions with external stakeholders. They came to us, because we have the know-how to talk about value in healthcare with a different mindset. The goal was to transform these discussions from purely science-based to value-based, with a focus on improved patient outcomes and a correct patient pathway, addressing value in every step.
We build a real relationship, a strong one.
We work together with the client, leveraging their related ongoing internal initiatives and programs. We are always in contact with the client and have regular F2F meetings to exchange knowledge. A distinctive approach: Vintura regards the client as the expert, we always work together to find the best solutions. That way, we build a real relationship. And a strong one. The first phase was a cocreation of a value message that focuses on patient outcomes and includes health-economic data. Workshops with European affiliates, in collaboration with Prof. Lieven Annemans* enable the client to make the transformation.
More value-based discussions
Medical Affairs is now able to have more value-based discussions and work cross-functionally to be more effective in exchanging knowledge.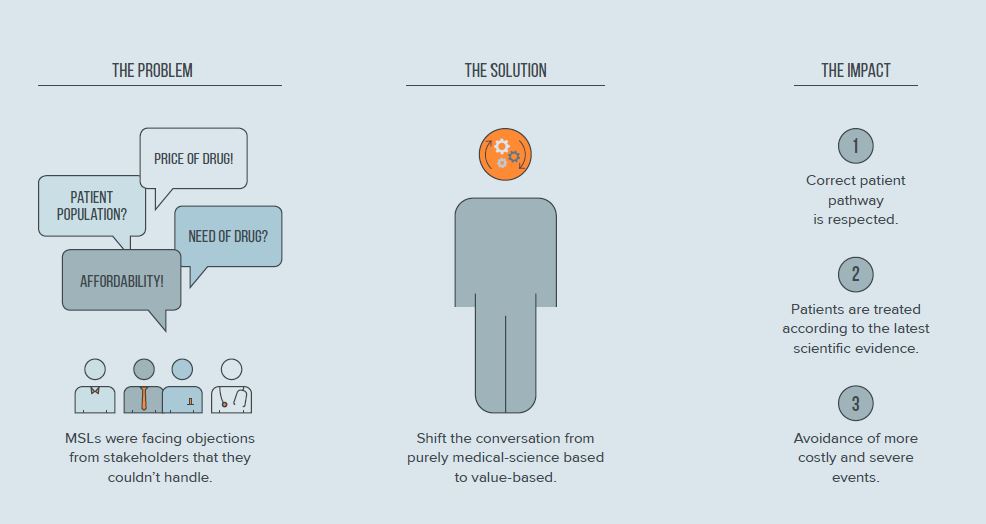 The implementation of the updated value message includes a more punctual collaboration between the European affiliates. At the end, Medical Science Liaisons (MSLs) feel more comfortable in doing their jobs, they are able to discuss topics beyond science and help specialists decide on the correct treatment for their patients. And the highest impact is for the patient: respecting the correct pathway will avoid more severe and costly events!
Read more about Medical Affairs, their four core responsibilities and how medical transformations is an answer to meet needs of a very dynamic and complex market.
*) Lieven Annemans is professor in health economics at the Ghent University and expert on health economics at Vintura.