evolving healthcare ecosystem
With healthcare ecosystems changing rapidly, the pharmaceutical industry needs to adapt to the current and emerging healthcare needs. Now, more than ever, true focus on providing value to the patients and stakeholders is key with VBHC gaining momentum as an efficient way to organize and provide care. For medical teams, this change represents a big opportunity to position themselves as partners, co-creating solutions to improve patient outcomes and experience of care.
Additionally, with the fast pace of scientific advances, complex therapies are transforming treatment paradigms with medical teams playing a central role in knowledge transfer to external stakeholders and devising evidence generation strategies. Medical teams need to ensure all healthcare stakeholders understand the impact of these innovations for patients and the importance of timely access.
Read more: An ecosystem approach to improve patient outcomes
Finally, digital channels are becoming a prominent way of communication and medical teams need to adapt to the emerging stakeholder needs, of accessing information when and where is needed.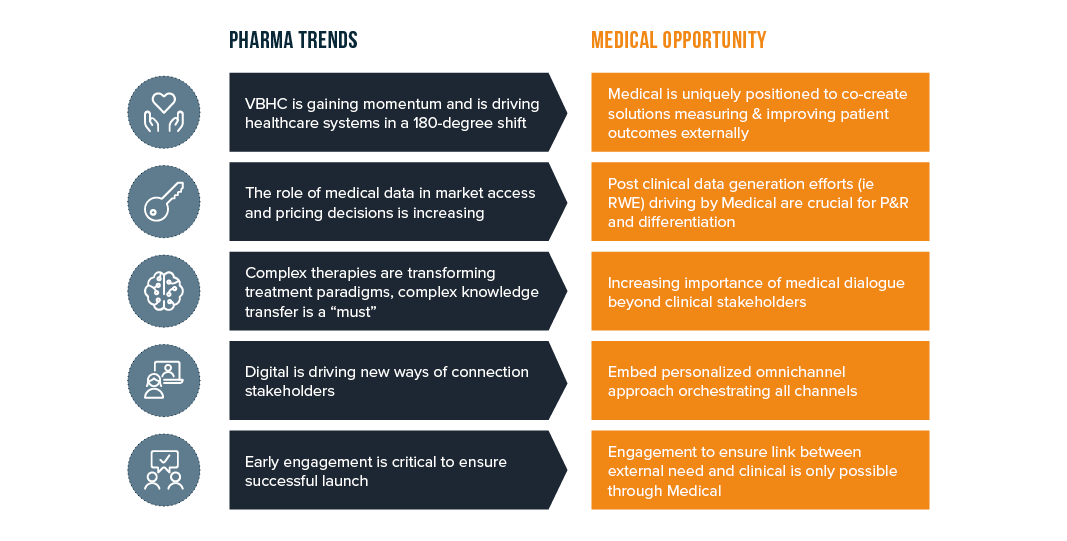 The Medical Affairs transformation: breaking down a daunting task
However, to become a real partner co-improving healthcare, Medical Affairs should evolve from a reactive, internally focused and siloed function to the proactive, strategic face of the industry operating in a fully integrated model. The leap towards this new future is substantial. Therefore, it requires a pragmatic step by step approach. In order to make this journey pragmatic, in our white paper 'Medical Affairs in transition – towards a fully integrated model' we developed a maturity model detailing three maturity steps that take Medical Affairs from a more traditional organisation, to a focused, coordinated and, ultimately, to an integrated model.
Read more: White paper Medical Affairs in transition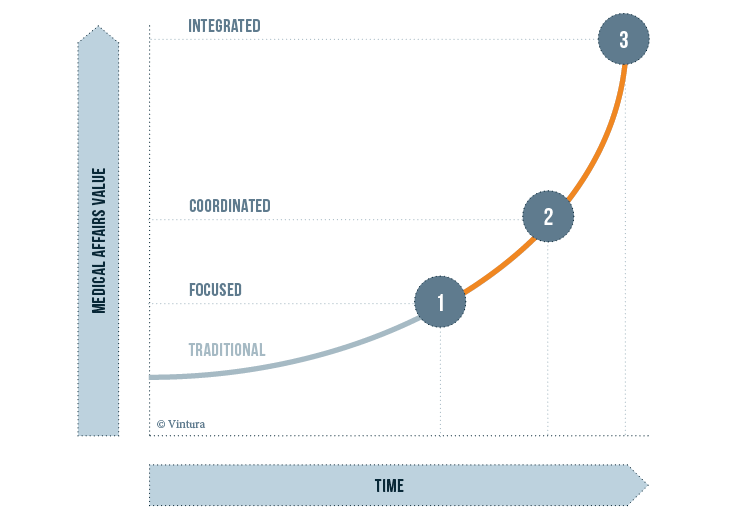 How we help Medical Affairs leaders manage this transformation
Every journey starts with a first step. The time is now for Medical Affairs leaders to initiate the journey and guide their organisation successfully through their medical transformation. Only with a compelling vision for the future, a clear plan and strong change management this journey will be a success. We support Medical Affairs departments and leaders in 4 key goals or focus areas that are paramount for a successful transformation:
Drive Medical Affairs strategy: Every successful medical strategy needs to starts with a compelling and clear vision. We help medical teams define their vision, strategy and the roadmap to achieve their results.
Personalize medical engagement: With the availability and time of stakeholders becoming more and more limited, Medical teams need to provide valuable content through the right communication channels. We help teams develop engaging narratives to share the value of their products and the right strategy and tools to tailor and personalize communication with stakeholders.
Accelerate medical organization: We help medical teams improve their operational efficiency and define fit-for-purpose performance management approaches to demonstrate their value to the rest of the organization
Step-up people and leadership to drive change: People are at the core of the success of a team. We help teams and leaders grow their capabilities and become better professionals, with change management as a key foundation of any transformation project.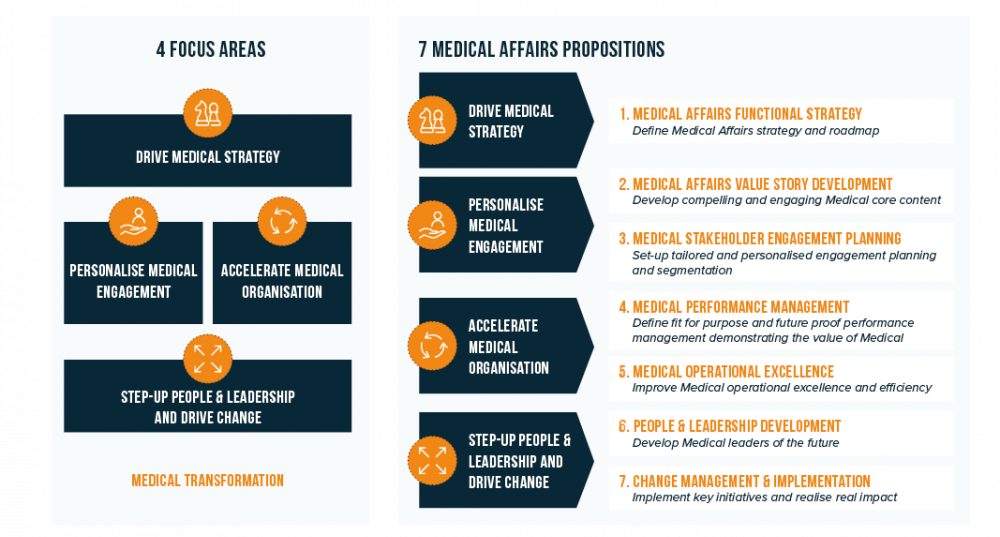 Our Experience
We have broad experience working with medical affairs teams of major pharma companies at different levels: we have worked with global Medical Affairs teams and different regional teams devising their strategy, vision and ambition for Medical Affairs. Also at the local level, we co-create and adapt solutions to make sure they respond to the needs of local teams.
Read more: Setting up a global Medical Affairs 5-year ambition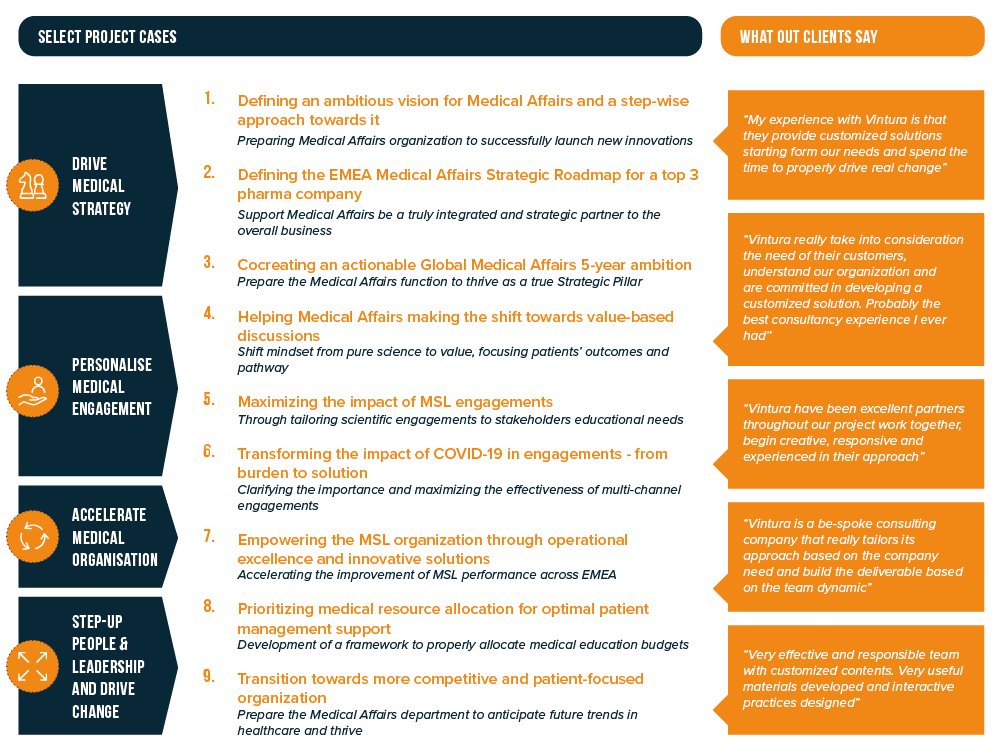 More information?
Are you inspired by our thinking and our propositions? Then we would love to hear from you and continue the conversation. Our colleague Pim Kooreman would love to hear from you. To learn more about our vision on the future for Medical Affairs download our whitepaper;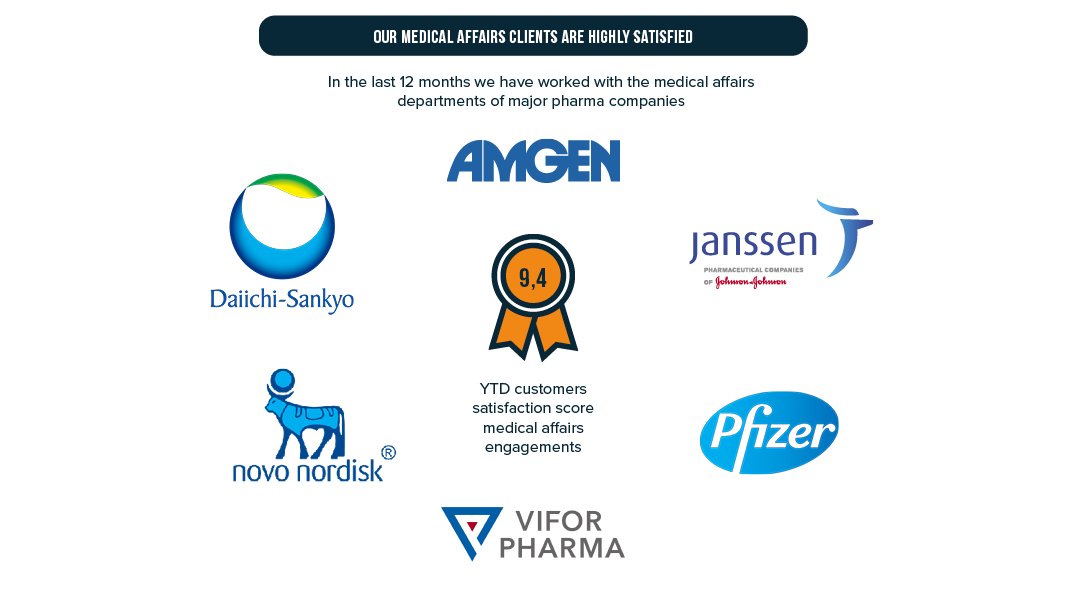 Thinking about the future of healthcare, a lot will be different in a couple of years from now. Are you interested in Vintura's vision on Medical Affairs in the future of healthcare and do you want to keep up-to-date on our latest thought leadership. Feel free to leave your contact details below to be included on Vintura's Medical Affairs mailing list.
Mailing list sign up form