They are responsible for educating internal and external stakeholders on scientific topics, care pathway and patient outcomes.
They engage with external stakeholders into value and science discussions.
They are involved into the planning and generating evidence.
They are responsible to collect and report insights.
1. Stakeholder education & partnership
Medical education has the highest impact on net promoter score (NPS) and awareness among the medical channels and HCP's express clear desire for increased channel use. Medical Affairs need to be prepared to share knowledge and educate internal and external stakeholders throughout all product lifecycle phases:
Product early-development phase: to create external expert interest.
Pre-launch phase: to build awareness and confirm product understanding.
Launch phase: to educate on clinical evidence and product use.
Post-launch phase: to provide continued medical education.
Increased market dynamic, portfolio growth and complex products continually drive the need to strategically allocate medical education budgets to avoid major increase in spending.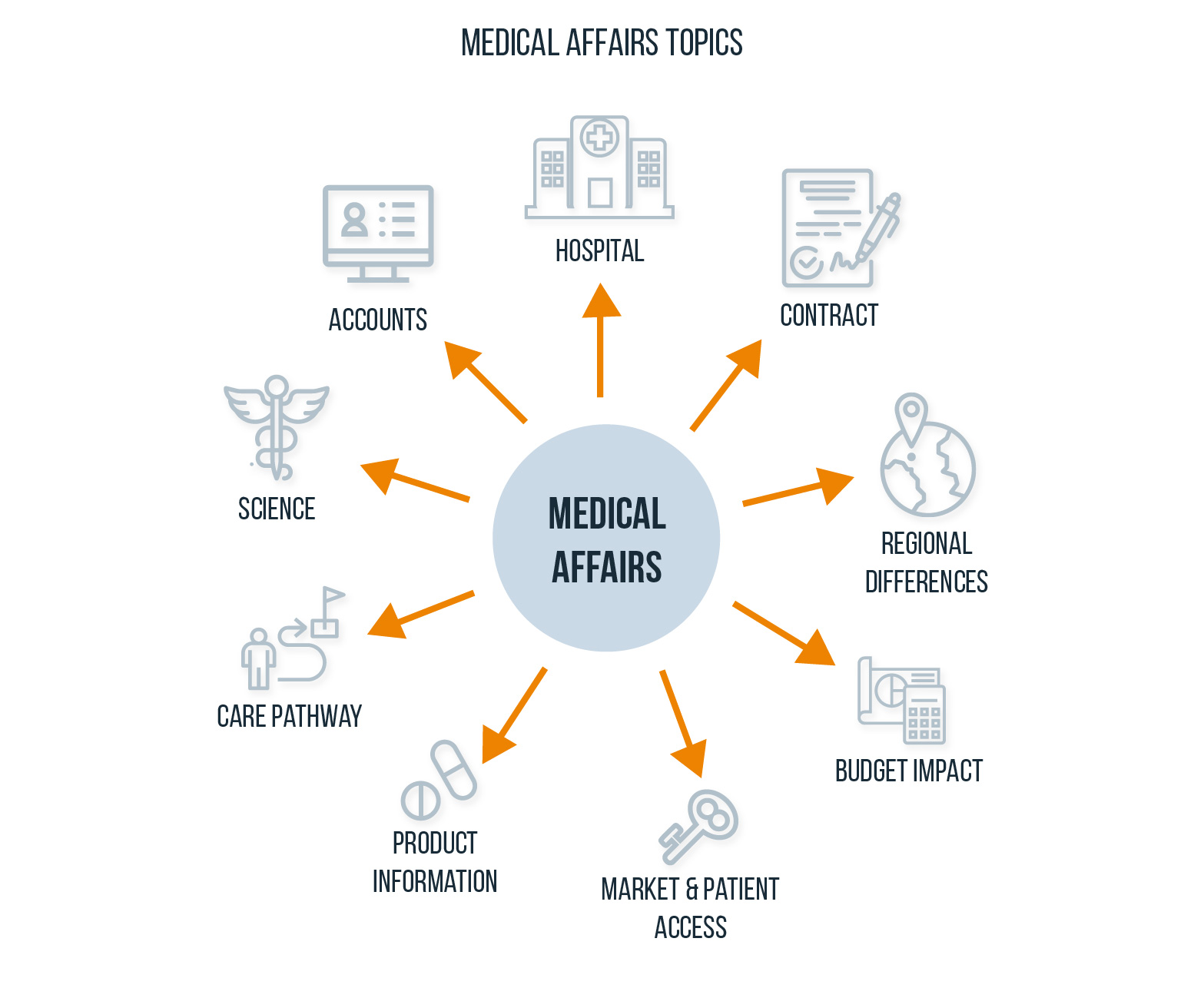 2. Scientific engagement
Medical Affairs is uniquely positioned to respond to market trends:
Physicians are seeking peer-to-peer interaction in order to engage into value-driven discussions underpinned by science;
Increasing pressure to ensure promotional compliance while maintaining full transparency;
Growing emphasis on scientific exchange.
Medical Affairs is capable to overcome difficulties on integrating disparate data sources and respond to customer needs. The correct communication of real-world evidence, scientific analysis, medical-value insights and in-house data might also guide improved reimbursement algorithms. Effective engagements also create clinical awareness and help improve health outcomes by shaping treatment paradigms.
Read more: How we support Medical Affairs leaders
3. Evidence generation
There is an increased trend to evidence-based decisions. As a driving force that combines clinical and medical evidence within the organization and presents it to stakeholders, Medical Affairs is able to communicate the company's value proposition in a balanced and evidence-based manner.
Medical Affairs need to take into consideration different elements to a more efficient and integrated approach to evidence planning and generation. Taking ownership of evidence planning and generation benefits the scientific community, the industry, patients and all other relevant stakeholders:
An integrated approach enables the tailoring of evidence to payers, providers and patients;
It benefits industry by checking all evidence required, incl. RWE, to meet decision maker demands;
Patients will have value-based outcomes translated into real-world benefits, improved health benefits and better patient experience.
4. Insights collection
A comprehensive insights collection process embraces the insights gathering, reporting and follow-up. This process helps to put insights into context and turn them into action. The insights collection should aim to close internal data or knowledge gaps.
How can Vintura help you to develop a strong Medical Affairs?
We can help you develop a stronger, more strategic and high-performing team and by aligning your strategy with the needs of different stakeholders. We will help you navigate through challenging market demands.
More information?
Are you inspired by our thinking and our propositions? Then we would love to hear from you and continue the conversation. Our colleague Pim Kooreman would love to hear from you. To learn more about our vision on the future for Medical Affairs download our newest white paper;