The Market Access challenge continues
Continuous technological advances and demographic trends will put additional pressure on healthcare budgets, forcing payers to take austerity measures and scrutinize budget allocation decisions. Payers want to see increasingly compelling and real-life evidence of a drug's superior value combined with pricing and payment schemes that will minimize risk for their healthcare system.
Excellent Market Access teams are ready to face these challenges by:
Developing Market Access strategies focused on demonstrating real value and minimizing risk for the organization and external stakeholders;
Organizing in cross-functional teams that are involved in early development (latest from phase II onward);
Collaborating with national and local payers to ensure timely and honest feedback on Market Access strategies, dossiers and solutions.
How we help you navigate this challenging environment
Our extensive national and international experience in strategy and organizational change in the pharmaceutical industry, combined with access to internal and external subject matter expertise, positions us as your go-to-partner for your Market Access challenges. Our solutions in the Market Access area are structured across four areas:
Strategy: identify access barriers along the product lifecycle and develop impactful pricing, reimbursement and Market Access strategies that balance the needs of all stakeholders.
Value demonstration: develop a compelling narrative to demonstrate value to the wide range of stakeholders involved in Market Access.
Policy shaping: proactively drive changes in the access environment, in partnership with stakeholders, using your expertise and insights and focusing on the common ground.
Organization: optimally collaborate across functions for Market Access success.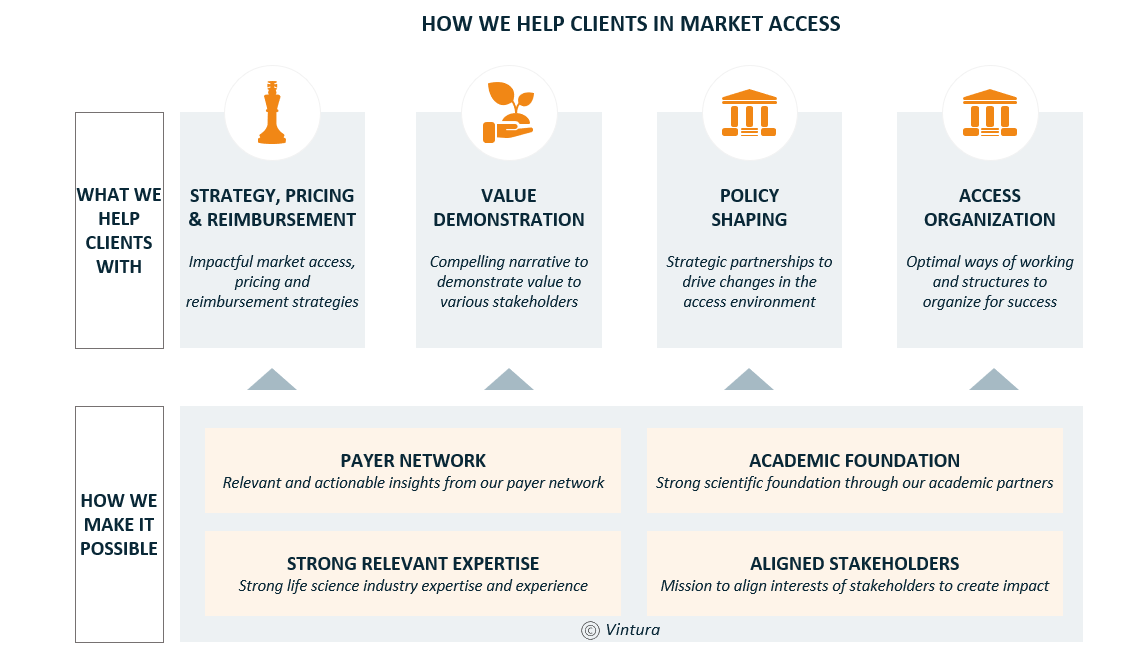 Market Access expertise with strong academic basis
We ensure our Market Access advisory projects are strongly linked to latest academic insights through our expert in health economics Prof. dr. Lieven Annemans. Prof. dr. Lieven Annemans is professor of Health-Economics at Ghent University. He is one of Europe's leading experts in health economics and HTA. Annemans is a sought-after advisor and educator to health policy makers and pharma and device companies. He is highly respected for his vast international and cross-therapeutic experience and is the academic backbone of our Market Access practice.
Obtain timely and honest feedback from our payer network
Are you seeking external validation of your Market Access, pricing or reimbursement strategy? We can mobilize our European payer network via interviews, surveys or advisory boards to help you get external validation early and efficiently. Explore the possibilities.