Life expectancy across the globe has increased by more than 30 years over the past 100 years. This increase is driven in large part by increased access to innovations in healthcare. However, at present, three major trends risk restricting future pharma innovation:
Increased R&D expenditure and reduced peak sales for new products put pressure on big pharma sales and margins.
Increased competition from biosimilars and generics drive down future prices for patented products nearing LoE, ultimately decreasing total brand value.
Increased local payer and HTA scrutiny on novel treatments put pressure on drug prices, patient access to these treatments and pharma returns.
These trends will put substantial pressure on pharma ROI, potentially restricting future innovation, and ultimately jeopardizing patient access to novel treatments.
To ensure continued innovation and a healthy future, pharma executives need to make the right decisions early and consistently. They need to build and maintain product portfolios that add real value to patients, society and the organization. Additionally, they need to develop individual and local brand strategies that maximize a product's return across its lifecycle. Continue reading to learn more about Vintura's experience supporting pharma and biotech companies designing and executing effective and differentiating commercial strategies, at portfolio and brand level.
BUILDING AND MAINTAINING SUCCESSFUL PORTFOLIOS
The product portfolio is at the core of each pharmaceutical organization. A successful portfolio strategy sets direction for the future and maximizes value for the organization, patients and society. This requires pharma executives to make high-stake decisions across multiple stages of portfolio maturity.
At Vintura we have the experience to support you to maximize your portfolio's value. We support management boards and specialist teams in their decision-making process, using clear frameworks, challenging discussions and to-the-point analyses. Our tailor-made approach and collaborative style of working ensures you make the right decisions in line with your organizations ambitions. We can help you answer key business questions across different stages of portfolio maturity.
Building your portfolio: How can you build a distinctive and successful product portfolio that maximizes value for patients and the organization, from early R&D to end-of-lifecycle?
Maintaining your portfolio: How can you allocate finite resources across products and countries to maximize the value of your full portfolio?
MAXIMIZING BRAND VALUE
Building and executing a tailored brand strategy adapted to the product lifecycle is critical to maximize brand value. Successful brand strategies are the result of solid market and stakeholder understanding, strong leadership and organizational buy-in. Leadership direction enables clear and consistent messages highlighting the distinctive value-add for each stakeholder type, whether it be patients, prescribers, providers, payers, regulators, or any other. To ensure full organizational buy-in, brand strategies should be built and executed by cross-functional teams fueled by clear stakeholder and market insights
We are experts in enabling and driving this cross-functional and multidisciplinary process at both local, regional and global level. As life sciences specialists we add value by ensuring your brand strategy is fit for today's and tomorrow's challenges and your stakeholder needs. We do this by working with you and your team to supplement your knowledge with our industry expertise to co-create the most optimal solutions for your organization.
We can help you answer key business questions regarding your brand strategy across the product life cycle: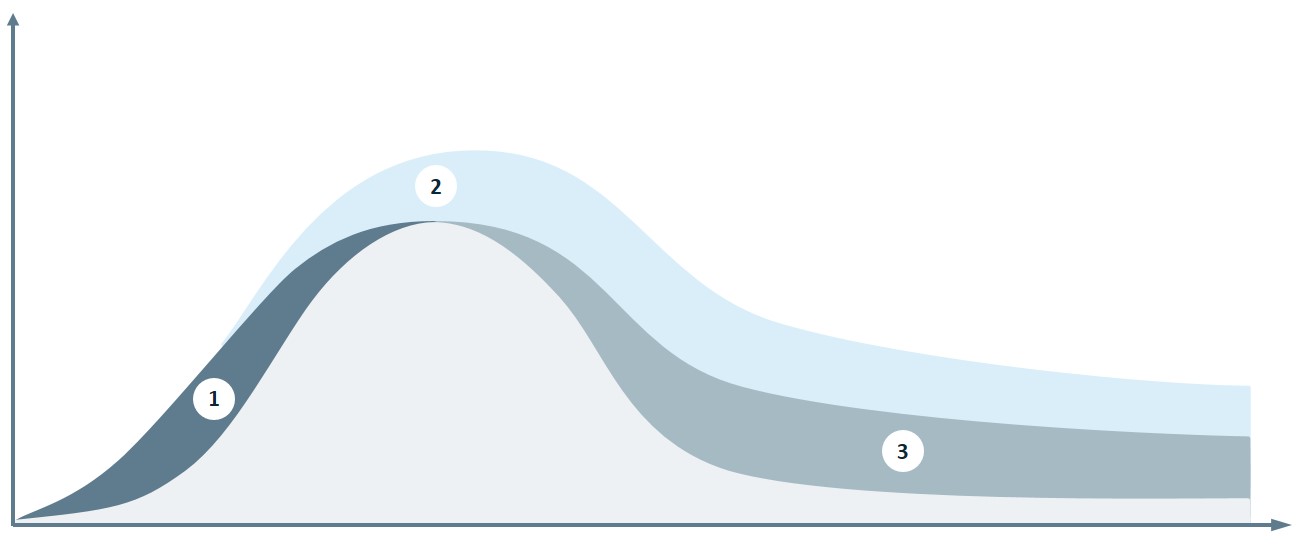 Superior launch: What do we need in preparation and execution to ensure launch excellence? What is the most optimal Go-To-Market strategy to ensure fast and sustainable product uptake?
Accelerated growth: How can we organize for effective patient access to maximize our growth potential? Where and how can we improve to boost our competitiveness?
Optimized value at the end of the PLC: How can we maximize the product lifespan and prevent erosion of sales?