Partnering & collaboration will continue to be a core driver of value creation to speed and manage the risk of innovation.
Optimised portfolios and efficient launches will be increasingly important in hypercompetitive speciality care categories.
Increased patient empowerment will hold manufacturers and authorities increasingly accountable for providing affordable access to innovative medicines.
Digital technologies and data mastery will become increasingly significant in powering the diagnosis and treatment of disease and will continue to shape the way we operate on a daily basis.
Value will drive conversations amongst key stakeholders in the healthcare ecosystem.
To drive success in response to these trends, we work with our clients to improve innovation, leverage digital and data opportunities and develop strong portfolios and distinctive brand strategies that deliver value in an increasingly value-focussed healthcare ecosystem.
Our core areas of commercial strategy focus on:
Strategic Partnering
Product & Portfolio Strategy
Patient Centric Solutions
Digital Solutions
Organisational Excellence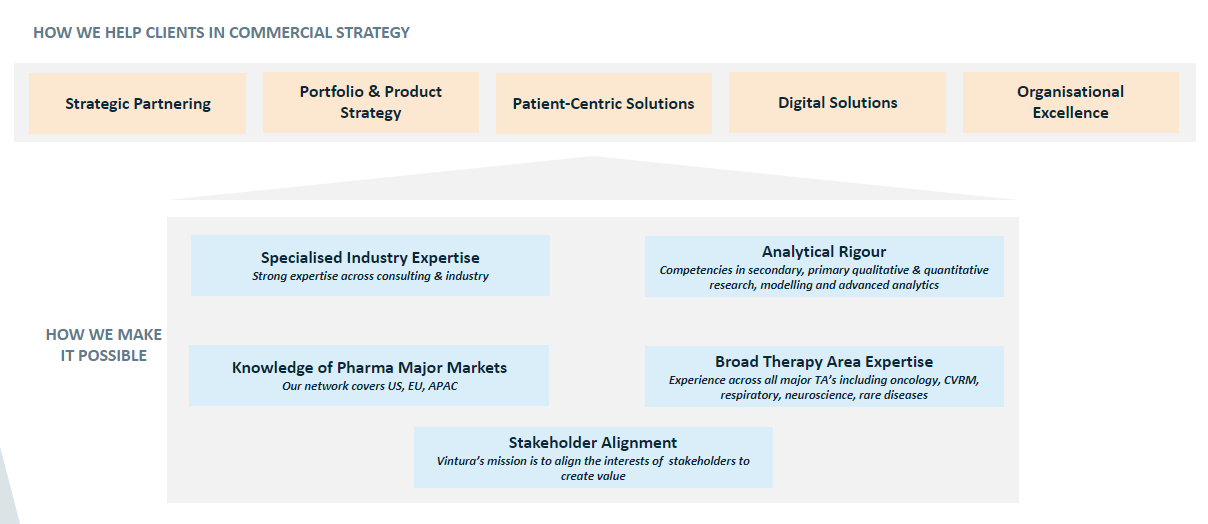 Strategic partnering
We can assist you in accessing innovation and growth opportunities via win/win partnerships.
Partner & technology searches and evaluation
Pitch book preparation
Business development & licensing / opportunity assessments
Product & portfolio strategy
We support you to develop strong portfolios and distinctive brand & customer strategies that drive growth throughout the product life cycle and deliver value to all stakeholders.
Portfolio planning & optimisation
Pre-launch planning
Launch acceleration
Brand & value optimisation
Late life cycle management
patient-centric solutions
We work with you to develop patient-centric strategies that engage patients during their treatment and improve their outcomes.
Embedding patient centricity into early commercial planning
Patient journey and experience mapping
Patient-orientated outcomes
digital solutions
We co-create with you digital solutions that enhance product experience and drive commercial effectiveness and help you implement them.
Digital portfolio strategy
Beyond the molecule solutions
Omnichannel strategy
Commercial effectiveness
Organisational readiness
organisational excellence
These activities require internal mindset changes or organisational adjustments often accompanying these activities, We can work with you to manage internal change and build agile and high-performing commercial organisations.
Organisational design & effectiveness
Leadership & relationship dynamics
Capability building
Coaching
Influence & negotiations