Which competencies does a future-proof hospital need?
A future-proof hospital requires drastic measures to achieve volume restriction and an improvement in results. This is only possible when the hospital has sufficient leadership, management and cooperation to determine its direction and stay on course. Leadership is about directing the organisation by communicating the usefulness, necessity and value of change. Exemplary behaviour, decisiveness and taking a coaching role are also important here. Management relates to the hard side of hospital organisation. Here, the essential things are integration of medical specialists in overall leadership, the right management and reporting information for value-driven management, and internal benchmarks. The third factor is cooperation. The enablers for good internal cooperation are balanced roles and responsibilities, an effective consultation structure and a culture focused on improvement. This is a considerable set of competencies, that is also clearly different from the way things were in the past. For many hospitals, this requires a significant change in the organisation.
How can Vintura help you?
We work with you to record the current situation in the hospital. How does your organisation score on the competencies within leadership, management and cooperation? How can you use these competencies to become even stronger and to continue to move with the dynamic healthcare market? Based on this assessment, we identify your organisation's areas for development. We can then use targeted interventions in these areas. We have had good experiences with things like:
drawing up a convincing case for change;
setting up and implementing leadership programmes;
designing and shaping appropriate change management;
designing an effective consultation structure;
selecting the right set of management indicators;
building monthly reports and cycles.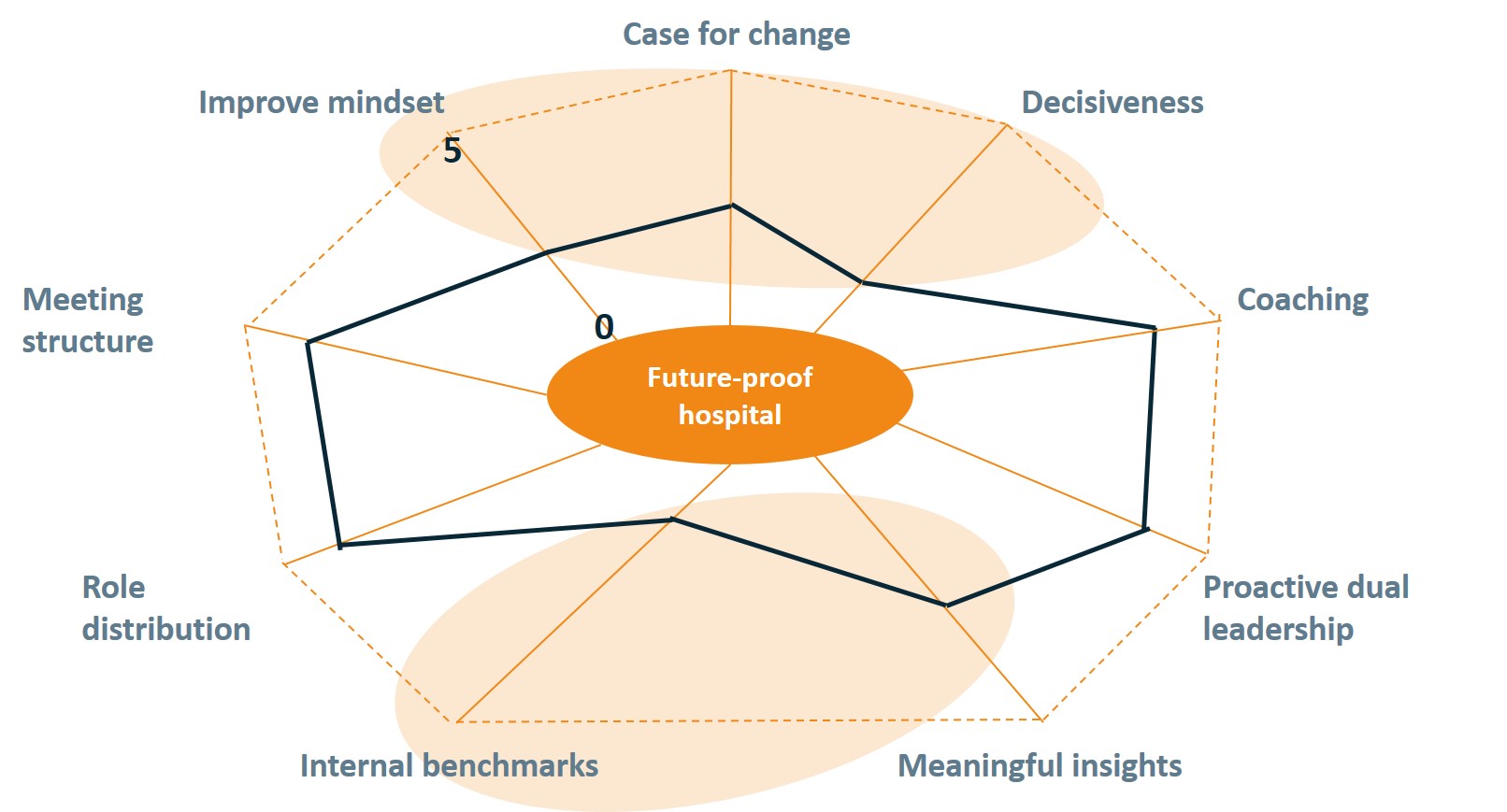 Of course, we always take the Vintura approach: seeking sound and supported solutions.
Would you like to know more?
Vintura has helped a number of hospitals to improve their internal management. We also have extensive experience in other sectors. The following are some examples of completed projects:
Customised training to safeguard value-driven healthcare in practice / read more
Leadership programme leads to relevant business solutions / read more
View all of our previous healthcare projects here. Would you like more information, or would you like to get started on improving internal management right away? If so, please contact Noël van Oijen directly or call our general number (+31 35 54 33 540).