What are today's challenges for pharmaceutical companies?
Furthermore, services and solutions can help patients better manage their own disease (and health!) and improve treatment adherence. Pharmaceutical companies are therefore taking an increasingly broader role in the care pathway as well as outcomes measurement, in order to help physicians and patients to achieve the best treatment outcomes and demonstrate the value of their products. In this way the role of pharma companies is changing from a product supplier role to a healthcare partner role.
Why VBHC for pharma?
As pharma is increasingly scrutinized and pushed to generate real world evidence (RWE), VBHC is a key enabler to collaborate with other stakeholders to ensure your innovative products reach their full potential beyond clinical trials as well as demonstrate their value. It also provides the opportunity to position the company as a collaboration partner rather than a distant supplier.
What do we see as key success factors for pharma in VBHC?
• Collaboration requires trust. As a pharma company, you need to show your true intentions and reliability in your behavior to earn a seat at the table
• VBHC requires a strategic and long-term focus, with full management buy-in and aligned expectations on short- to long-term returns
• Healthcare system adaptations (e.g. common definitions, (inter)national infrastructure, data exchange) are required to drive and embed large-scale change
• It is key to also enhance patient centricity within (R&D) processes, by involving patient representatives and including patient-relevant outcomes
How can Vintura help you achieve your VBHC ambitions?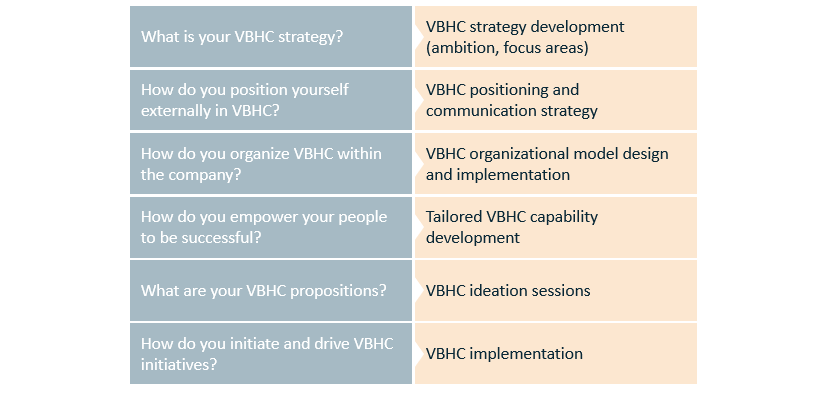 What are the key challenges for pharmaceutical companies in VBHC?
Vintura can support you in tackling key VBHC challenges:
How to raise internal awareness and common understanding of VBHC principles and their applicability for pharma?
How to strategically focus your VBHC efforts in the best-fit disease areas, selected geographies and key accounts?
How to establish a true partnership role with key stakeholders (e.g. hospitals, patient associations, payers, governments) in VBHC?
How to scale up VBHC initiatives beyond the pilot phase?
How to continue or exit services/solutions post loss of exclusivity in a feasible way and in such a way that it does not harm your trust & reputation?
How to establish and organize outcomes-based agreements that are appropriate to your level of influence within the care pathway?

Vintura is an official ICHOM partner for implementing ICHOM standard sets and VBHC and also a driving force behind the European Alliance for Value in Health.