In Vintura's mission, 'Creating meaningful impact in healthcare together', the last word – 'together' – is key. That's because improving healthcare and achieving sustainable results is a team effort, for which we need to collaborate closely with our clients and colleagues in driven teams where everyone's know-how and experience contributes to making genuine improvements. Mark and Lidewey tell us more about 'co-creation, Vintura-style'.
Mark: 'We work together in teams on all our projects. Most of these teams include two or three consultants and several people appointed by the client. Our clients are part of the team from day one, as we firmly believe that the process of implementing changes starts as soon as the project kicks off.'
Lidewey: 'No matter how good we might be as consultants, when it comes to the complex world of, say, a hospital or pharmaceutical company, it's the client that ultimately has the most expertise. If we don't involve them, we might come up with a solution that makes perfect sense theoretically, but that turns out to be impossible to implement. Teaming up together is a way of preventing that from happening. This involves exchanging knowledge, coming up with ideas, having discussions, making adjustments where necessary, and investigating the impact together. That way, you can be certain that you will have reached a solution by the end of the project that benefits all parties involved and that really improves patient care. A report is never our end product: our job is only done when we've truly made an impact for our client.'
Asking the right questions
Mark: 'We always bring experienced consultants whenever we visit clients: people with a clear vision who really bring something to the table. We communicate easily with doctors and pharmaceutical companies, but that's not a requisite when you first join our company. If you can think logically and analytically, have empathy and are able to connect with others, you can make a difference as a consultant. You'll soon learn the ins and outs of the industry, and by asking the right questions you can improve the quality of the collaboration.'
Equality among colleagues
Lidewey: 'The fact that we work in teams is nothing special – in fact, it's common in the consultancy business. What does make us different, however, is how we define collaboration; the fact that we involve clients so closely, as well as the equality that exists between team members. Based on our own take on the problem, we brainstorm on how we are going to solve things, and challenge each other to consider things from different perspectives.'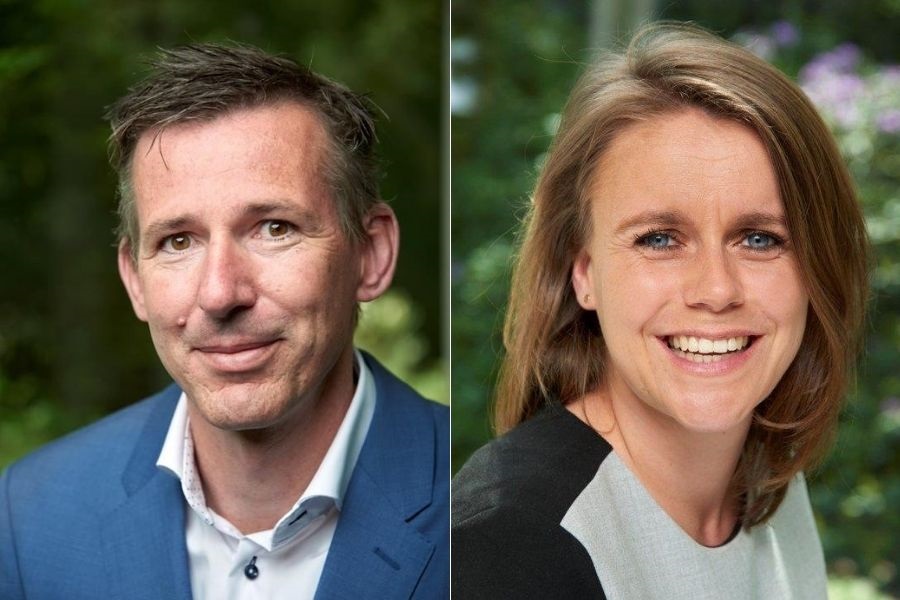 Mark: 'It doesn't matter whether you have 5 or 20 years of experience in this business: we all have something unique to contribute to a project. At the start of each project, we always discuss each other's "DNA". What do you have to contribute to your colleagues and clients, what areas would you like to develop, what makes you happy, and what do you dislike? If you discuss these topics beforehand, you know exactly what to expect from each other and what you'd like to learn from the project.'
Learning from each other
Lidewey: 'Mark has taught me so much about how to connect with clients: he can make you feel that he understands you from the start. He's extremely driven and always focused on what it takes to make the client happy. I'd also like to develop my skills in this area, so he's been a very good example in that regard.'
Mark: 'Isn't the fact that you can learn from each other and challenge one another what makes collaboration so great? I continue to learn from colleagues such as Lidewey every day about how a hospital is really run. I've also learned a lot, by observing her, how to structure information or come up with new ways to streamline processes. She's a sharp observer and conceptual thinker, and I learn something new from her with each project.'
From initial plan to strong results
One of our clients, an academic hospital, wanted to improve healthcare for patients with diabetes, who were admitted to hospital for other medical reasons. A plan had already been drafted, but the hospital was unable to implement it. An ideal opportunity for Vintura to provide assistance! Read more about this project and the impact on healthcare.
Mark joined Vintura in 2011 and was promoted to director in 2013. He previously worked for KPMG Consulting for many years. Lidewey joined Vintura as a consultant in 2015. She previously worked on strategic real-estate projects in healthcare.