Currently, the main focus in healthcare remains prolonging the life of patients with the aim of curing diseases. This is not a bad thing in itself; however, whilst increasing life expectancy is an important goal, it should not stand alone. It is equally, or maybe even more so, important to focus on the quality of this elongated life for patients. With a rising number of diseases becoming chronic, accompanied with an increase in life expectancy, more patients will have to cope with their disease for a much longer period of time. Both the disease and treatment physically and mentally impact patients. Disease symptoms, adverse events, and the psychological impact of having a disease greatly affect patients, even if the disease is stable or cured. Therefore it is becoming increasingly important to focus on improving the quality of life of patients. After all, what is the value of an extra life year if it is spent in a state of low quality of life? Download the heart failure white paper here.
Patient quote: "not only the disease itself is a hindrance here, but also the side effects and interaction of the usually many drugs. What good is it if I have a good cholesterol level but can no longer walk for a longer period of time? What good is it to have low blood pressure, but it makes me dizzy when I get up?"
Quality of life covers the multi-dimensional impact of a clinical condition
Quality of life is multi-dimensional; it is related to physical and mental well-being, as well as social, community, and civic activities including recreation and fun. It is a subjective perception of an individual patient and reflects the impact of a clinical condition on various facets of their life. It is important to focus on improving quality of life as this will not only lead to a better quality of life, but also to better clinical outcomes of treatment; for instance, fewer hospital readmissions or higher mortality.  
Heart failure has a high impact on quality of life
Heart failure is an example of a chronic condition that has a significant impact on patients' lives. It is a debilitating condition characterized by multiple symptoms, including shortness of breath, fatigue/tiredness, and fluid retention. These symptoms reduce the person's independence and thereby significantly impede quality of life.  
To investigate the exact impact of heart failure on quality of life, we conducted both qualitative and quantitative research. This included an assessment of quality of life before and after heart failure diagnosis, and current and desired quality of life assessment and management in clinical practice. Results show that the impact on quality of life is significant; patients reported a 21% decrease in quality of life following their heart failure diagnosis, and one in five patients declared themselves as disabled. This deterioration in quality of life is mainly driven by the symptoms patients experience, which have an impact on all facets of their quality of life (emotional, physical, relational, psychological, and social consequences). 
Heart failure patients perceive quality of life to be equally important as mortality and morbidity and advocate that this should be the main focus of treatment. Moreover, the current clinical practice and management of quality of life does not meet the standards required by patients. Quality of life is often not part of the discussions between patients and their dedicated medical team. Subsequently, actions to improve or correctly manage quality of life are rarely taken. This highlights that there is room for improvement in the treatment and management of heart failure to ensure patients' live a good, quality life.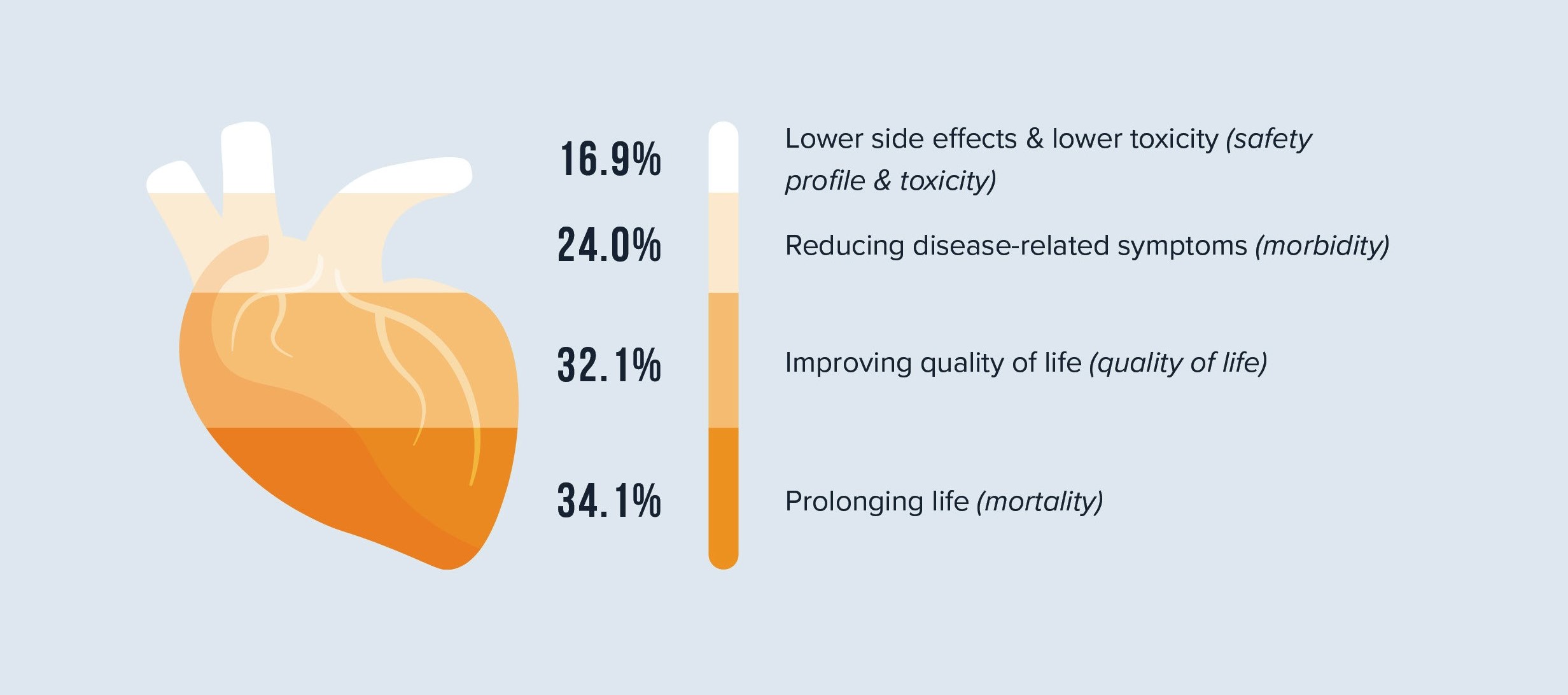 We must empower patients
In conclusion, quality of life is highly important to patients suffering from chronic diseases. It is a positive sign that patients are playing an increasingly active role in deciding on their disease journey, and are sharing their voices on what is important to them. We therefore must empower them to discuss their quality of life needs, to ensure treatment, clinical practice, and management of the disease is focused on improving this.  
In the next blog we will examine how we can shift the focus to improving patients' quality of life and what actions are needed from different stakeholders to enable this.  
Interested in reading more?
In our white paper "Heart Failure – An Inconvenient Truth", developed together with Pumping Marvellous (UK), AVEC (FR), Herzschwäche Deutschland (DE) and The Patients Voice (NL), we advocate for better quality of life in heart failure. This whitepaper highlights the experiences of patients living with heart failure, clearly demonstrating the burden of heart failure and its impact on quality of life. You can download the white paper here: 
Let's discuss
We at Vintura believe a good quality of life is key and should be taken into account in important decisions throughout the healthcare system. We must therefore work together with all stakeholders, patients included, to advocate for a better quality of life for all. Inspired to connect on the topic of quality of life? Or would you like to learn more on how to work together effectively with patients or patient organisations? If you are interested in these topics, you will also find additional information in our latest white paper.  We would be delighted to hear from you, please feel invited to contact Bas Amesz or Carlijn Hintzen.