Improving time to patient access
This report brings stakeholders across Europe together around opportunities to improve time to patient access for innovative, value-adding oncology therapies. It focusses on reducing European inequalities in terms of delays in ensuring reimbursement and delays in ensuring actual access once reimbursement is in place.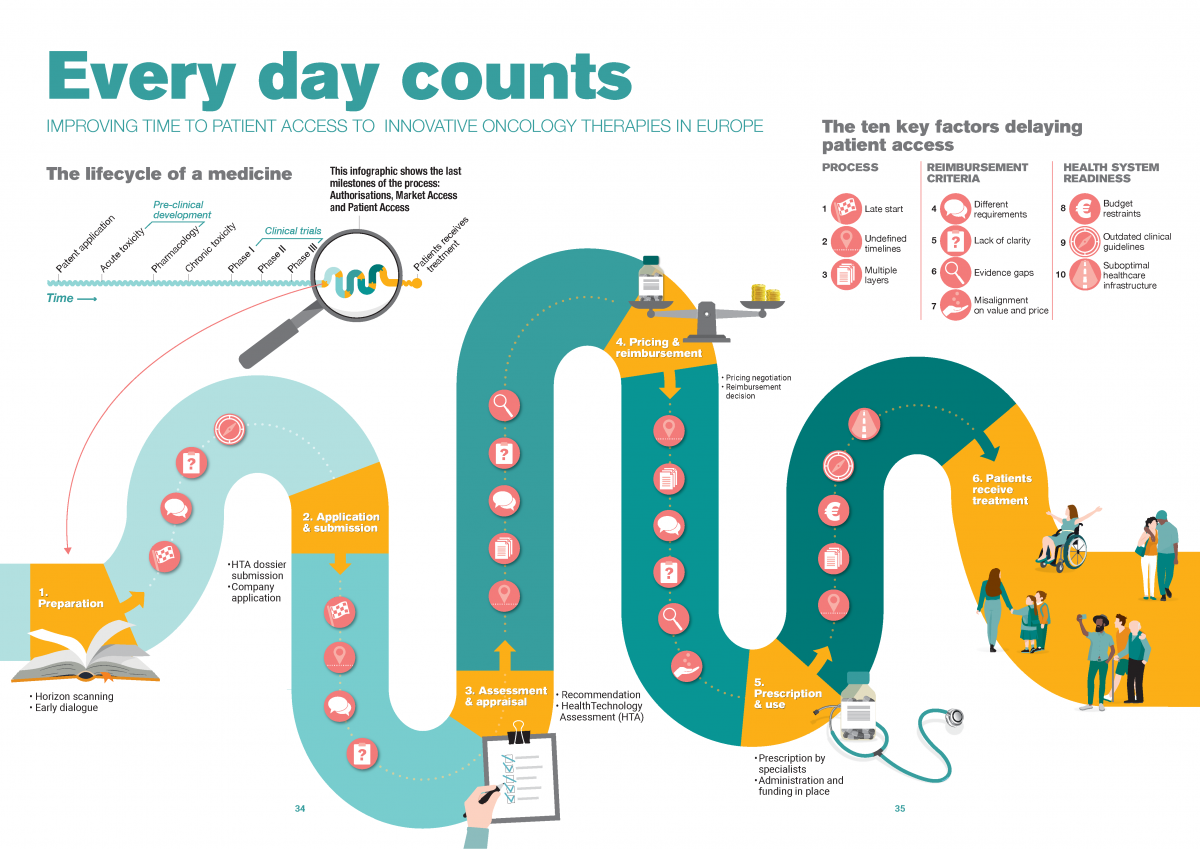 The report is the result of a collaborative approach by health technology assessment (HTA) bodies, healthcare professional associations, patient organisations, policy makers, former politicians, payers and pharmaceutical companies. Its purpose is to provide a comprehensive and unbiased overview of challenges and solutions, thereby moving away from polarised debates which often occur nowadays.
It describes the ten factors delaying time to patient access and six priority areas to address these delays. In each of these priority areas, a concerted effort is needed. It is not a matter of individual stakeholders taking responsibility within their respective areas of work. It requires stakeholders to break through comfort zones and to actively look for common ground with other stakeholders.
To reduce the important inequalities in patient access between European countries we need to find this common ground and a common perspective. Because all stakeholders are part of the current system and none of the stakeholders involved can solve today's challenges single-handedly.
We need a collaborative approach now. Because for patients, every day counts.
THE PUBLICATION IS ENDORSED BY THE FOLLOWING ORGANISATIONS:
Association of Medical Oncologists (AIOM), Italy
Association of Oncology Nurses (AEOP), Portugal
Central and Eastern European Society of Technology Assessment in Health Care (CEESTAHC)
Digestive Cancers Europe (DICE)
European Association of Nuclear Medicine (EANM)
European Cancer Patient Coalition (ECPC)
European Federation of Pharmaceutical Industries and Associations (EFPIA)
European Patients' Academy (EUPATI), Portugal
European Union of Private Hospitals (EUHP)
EVITA – Hereditary Cancer, Portugal
Hodgkin and Non-Hodgkin VZW, Belgium
Lymphoma Coalition Europe (LCE)
Youth Cancer Europe (YCE)