The recommendations come at two different levels. First, at the level of change management, where we discuss important steps to set up the right culture and mindset among leaders and team members. Second, at the operational and technical level, where we discuss ideas to improve patient value and accelerate the transition to value-based care. Let's start…
Managing change
Before diving into the specifics of VBHC (defining a particular set of outcomes or selecting specific disease areas), organizations should take a step back and make sure the foundations for change management are in place. We have discussed the importance of change management in more detail on our previous publication and here we focus on four key recommendations: Create awareness, develop multi-stakeholder cooperation, align on long-term strategies and build leadership.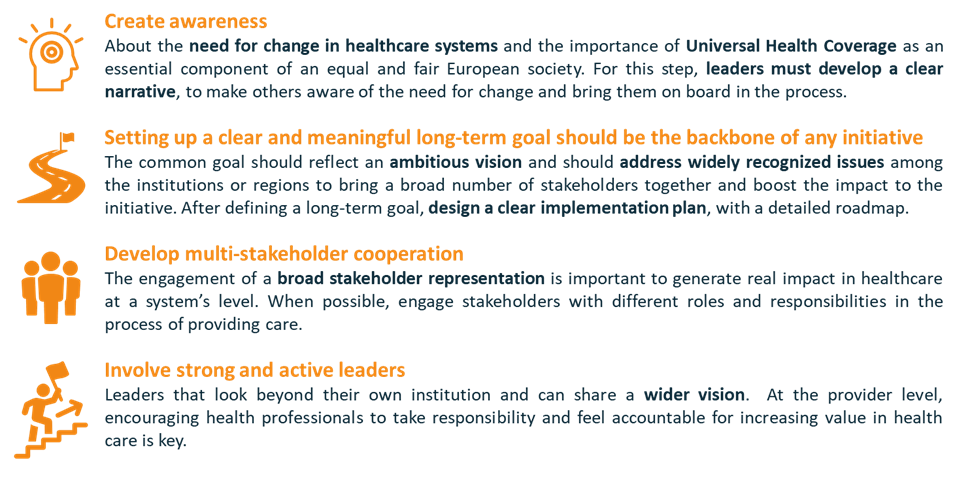 Initiatives to increase value and accelerate the transition to VBHC
Driving on a paved road is smoother and faster than driving on gravel. In the same way, a series of adaptations can make our path to VBHC smoother. The following enablers can help increase value for patients and accelerate the transition to VBHC: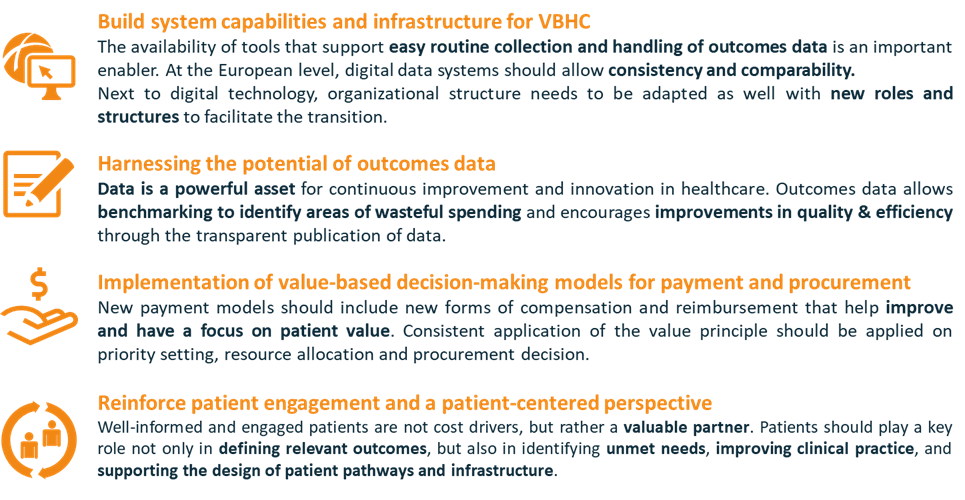 change management is key
Value-Based Healthcare requires changes at many different levels within organizations and healthcare systems. The European and International initiatives strongly recognize that change management is thus central in the successful implementation of VBHC. Next to change management, the right infrastructure, data management and payment models are important enablers. All these changes need to be supported by the implementation of aligned policies. Ultimately, policies aligned with Value-Based Care are the most important enabler for change. Policies can help standardize and emphasize the use of outcomes, regulate data sharing to balance privacy and availability and can create an ecosystem that fosters cooperation and coordination among stakeholders.
For a transition to happen in Europe, European policy makers need to act as catalyzers with policies that focus on patient value and bring stakeholders together.
After all, providing high standards of care that prioritize patient value should be the main goal for our healthcare systems.
References
1. Value in Healthcare: Laying the Foundation for Health System Transformation. World Economic Forum, 2017. Direct link
2. Value in Healthcare: Mobilizing cooperation for health system transformation. World Economic Forum, 2018. Direct link
3. Value in Healthcare: Accelerating the Pace of Health System Transformation. World Economic Forum, 2018. Direct link
4. Defining value in "Value-based Healthcare". Expert Panel on effective ways of investing in Health (EXPH) by the European Commission, 2019.Direct link
5. The Value of Health: Improving Outcomes – Final Report. The Value of Health: Improving Outcomes initiative, 2018.Direct link.
6. Incorporating value in investment decision in health across Europe. The working group, 2019.Direct link