As clinical guidelines are a highly important tool to inform oncologists of new oncology treatments and their appropriate use, they should be updated regularly to ensure timely adoption into medical practice. However, our research shows that, as today's oncology innovation is happening at a dazzling speed, clinical guidelines in many European countries simply aren't keeping up.
Guidelines for Europe's main cancer types not up-to-date
As part of the Time to Patient Initiative, our analysis focuses on Europe's five main cancer types. The results are shown in the figure below. For each cancer type, country flags show the most recent guidelines' publication year. The most recent innovation is indicated by a star. A yellow star indicates the release of an entirely new therapy. A black star indicates the release of an existing therapy, newly released to be used on this specific cancer type. The overview allows to quickly grasp whether the guidelines were published before or after the launch of the innovation. In short, we found that across Europe, the clinical guidelines for Europe's five main cancer types do not always include the most recent innovations. If the clinical guidelines are outdated for Europe's main cancer types, it's not hard to imagine that the same likely goes for rarer cancer types.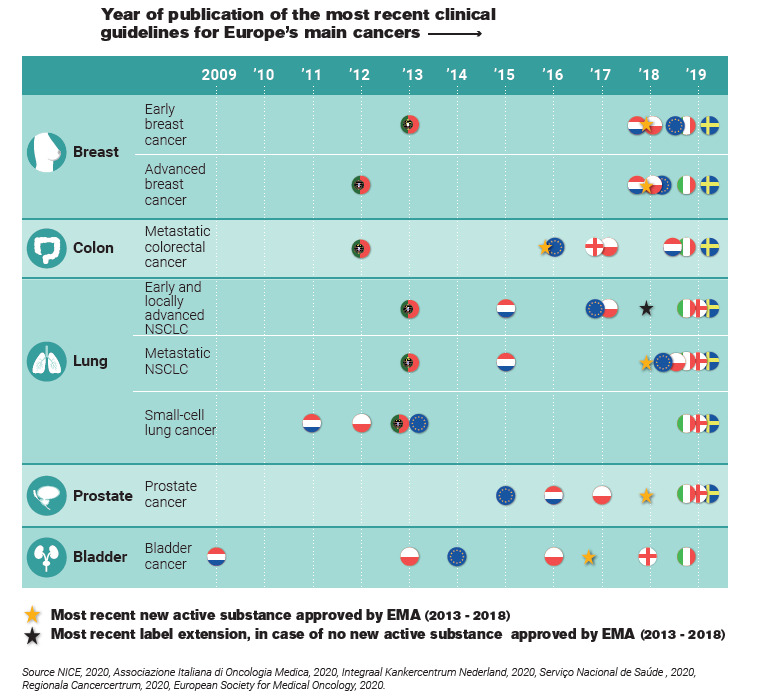 Making sure guidelines are updated regularly
What is the point of releasing a new oncology therapy if cancer patients won't get to benefit from them soon after? As medical professionals primarily look at the clinical guidelines for treatment options, it's vital to create clarity on the positioning of the new therapy in the treatment pathway. Ideally, guidelines should be updated immediately and continuously, so new treatments would be included as soon as they entered a national market. Yet, an annual update should be considered the absolute minimum. The good news is: we believe it can be done. In Italy, clinical guidelines are updated on an annual basis. Similarly, in Sweden, a Regional Cancer Centre developed guidelines for close to 40 cancer-related conditions that are updated on an annual basis.
Read more on clinical guideline updates in Italy
Read more on clinical guideline updates in Sweden
Increasing efficiency and speed
Of course, updating clinical guidelines annually requires resources. To address this barrier, we see three ways of increasing efficiency as well as speed:
Streamline integration of reimbursement decisions into clinical guidelines
We find a good example in England. Here, the National Institute for Health and Care Excellence (NICE) developed interactive flowcharts comprising the content of both the latest clinical guidelines as well as additional treatment information based on recent technology appraisals.
Read more on NICE's interactive flowcharts
Set up an early notification system for upcoming therapies
A formal channel allowing pharmaceuticals to notify national decision-makers of their upcoming EMA approved releases, helps to assess the need for updates early and in a structural way. For example, in the United States, the National Comprehensive Cancer Network (NCCN) allows companies to submit a request for review of data for a specific indication, even before approval from the Food and Drug Administration (FDA).
Read more on NCCN's submission process
Create synergy between countries in developing clinical guidelines
Although often informed by guidelines from the European Society for Medical Oncology (ESMO), currently all countries have their own process of reviewing clinical evidence and developing their own clinical guidelines. We are certain there must be opportunities for creating synergy in reviewing all available evidence and developing clinical guidelines, especially between countries with similar health systems and standards of care.
Read more on the ESMO guidelines
We owe it to cancer patients to do our utmost. Because, for them, every day counts.
Let's discuss
Inspired to share your thoughts? Or would you like to learn more on how to accelerate patient access? We would be delighted to hear from you. Please feel invited to contact Bas Amesz.
DO YOU WANT TO READ MORE?
Please also be invited to read our others articles in this "Every day counts" series: