Today, pharmaceutical companies and national decision-makers are faced with the enormous challenge of striking a balance between fast patient access, uncertainty about real-world value and a reasonable price reflecting the (potential) clinical value of a new cancer treatment. Aligning on the clinical value and price of a new treatment proves to be incredibly difficult. One factor is the uncertainty about real-world value.
Uncertainty about real-world value
HTA's assess whether the manufacturer's evidence generated in a clinical trial is robust enough to demonstrate a higher level of effectiveness compared to the current standard of care. They evaluate among other things the patient population that was studied, the comparator therapy that was used, the outcomes that were measured, the trial set-up and the statistical analyses that were run. Increasingly, today's oncology therapies are not able to meet the requirements used by HTA's to review these elements. This is due to characteristics inherent to many of today's oncology therapies. Let's dive into five examples:
As new cancer treatments are developed in a context with a high speed of innovation, the comparator therapy used in the trial is often no longer the standard of care used in practice once the reimbursement dossier is submitted.
As many new cancer treatments are targeting life-threatening or highly debilitating disease, it's considered unethical to run a trial using a control group. Or control group patients are moved into the treated group when their disease progresses ('cross-over'), leading to overall outcomes in the treated group that are less positive compared to the control group.
As many new cancer treatments target rare cancers, rare molecular targets or rare genomic alterations, clinical trials pertain to a global patient population that is too small to generate statistically significant outcomes.
While new cancer treatments are targeting cancers that progress slowly, a standard trial does not generate data on the long-term impact of the treatment in terms of life expectancy.
Some new cancer treatments are potentially able to cure, yet a standard trial does not generate data on the long-term impact of the treatment in terms of duration of the curative effect.
Consequently, today's oncology therapies inherently face challenges in meeting traditional evidence standards, leading to evidence gaps and uncertainty about real-world value.
No mechanisms to deal with uncertainty
In the absence of mechanisms to deal with the uncertainty about value, pharmaceutical companies and decision-makers solve uncertainty about clinical value by negotiating on price. When price negotiations are started without dealing with uncertainty first, chances are high that it will result in lengthy, win-lose discussions. During these price negotiations, the common ground is often simply lost. Pharmaceutical companies and decision-makers find themselves in opposing positions on price, with no room for a constructive, comprehensive dialogue focused to find a shared solution. This lack of trust is adding to the already strained relationship between healthcare stakeholders.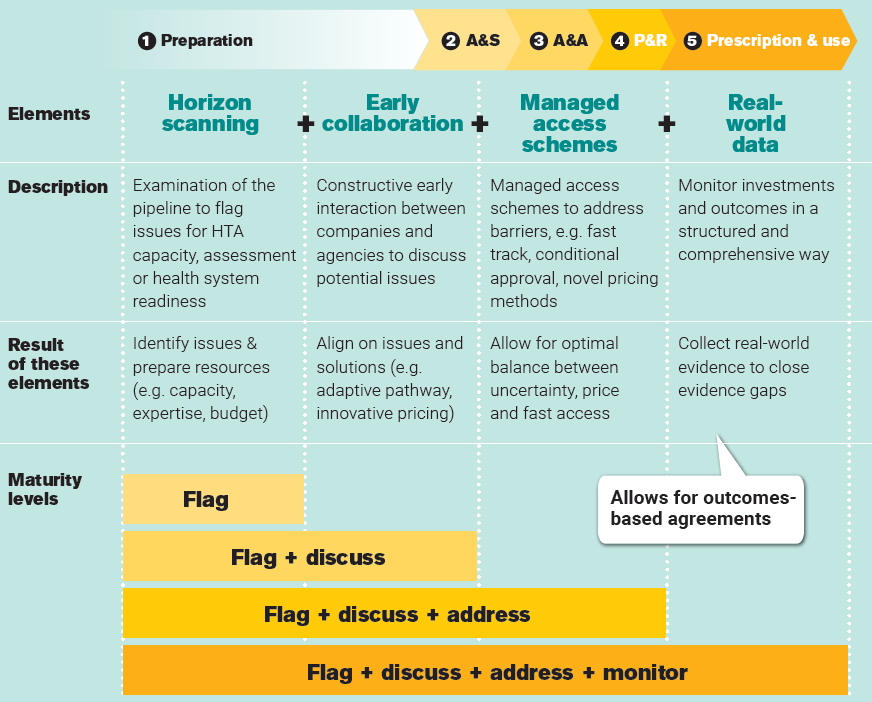 Needed: a comprehensive system to manage uncertainties
If cancer treatments would be available sooner, many more patients could be treated, offering a tremendous impact on their health and wellbeing. Speeding up patient access requires aligning on clinical value first, negotiating price second. The challenge is to deal with uncertainty about the real-world value of therapies. A comprehensive system of horizon scanning, early collaboration, managed access schemes and real-world data generation should be in place to proactively manage today's challenges and avoid delays arising from them. Although European countries currently have different levels of implementing the four elements above, no comprehensive systems exist yet, in which:
Horizon scanning is used to identify and prepare for challenges related to assessment, reimbursement and use after reimbursement.
Early collaboration supersedes today's early dialogue, symbolizing a move from early scientific advice towards broader discussions between stakeholders prior to EU marketing authorization, with the aim of aligning on challenges and jointly finding solutions such as managed access schemes and novel payment models.
Managed access schemes allow for addressing access barriers and finding an optimal balance between uncertainty, price and fast access. Such a fast track, conditional approval, novel payment models.
Real-world data is collected in a harmonized way, to develop evidence of real-world value (and costs) in a structured and comprehensive way to allow for closing of evidence gaps and novel payment models such as outcome-based agreements.
Apparently, stakeholders perceive the risk of making an erroneous decision as greater than the risk of prolonging the patient's waiting time. All the more reason to involve the patient in the decision-making process, especially as long as the system described is not in place.
Collaboration is key
As none of today's challenges can be addressed by a single stakeholder, concerted actions are needed in order to align evidence requirements and reimbursement criteria. We cannot stress enough that, in order to conquer these challenges, collaboration is of the utmost importance. Current early dialogues and scientific advice should evolve into early collaboration to enable a joint quest for solutions to potential access challenges. We owe that much to cancer patients.
LET'S DISCUSS
Inspired to share your thoughts? Or would you like to learn more on how to accelerate patient access? We would be delighted to hear from you. Please feel invited to contact Bas Amesz.
DO YOU WANT TO READ MORE?
Please also be invited to read our others articles in this "Every day counts" series: