Showing vulnerability and admitting that you can't do everything yourself: that's one thing I've really learned during my time at Vintura.
From my very first day at Vintura, I've felt supported by the other members of my team. Soon after I joined, I was put in charge of a highly complex project. On the day of a crucial meeting with all the stakeholders, I was in the south of the country and had a phone conversation in the morning with one of Vintura's partners. When I confessed to him I was really dreading that meeting, he said he'd come over to help me out right away. He simply cleared his entire diary for the day and got into his car. We discussed the project together and divided all the work that still needed to be done in preparation for the meeting. To my great relief, the crisis was solved! The client's meeting ended up being a success, and I'd learned what to do if a similar situation were to arise again in the future. If I hadn't told him what was going on, I wouldn't have learned anything and the client might very well have suffered as a result. Showing vulnerability and admitting that you can't do everything yourself: that's one thing I've really learned at Vintura'
Conflicts of interest
'Since I have a background in healthcare, I still really enjoy working in and with hospitals. Everyone who works there is driven by the intrinsic desire to help others get better. At the same time, we find that many of the staff have become part of an entrenched system that often doesn't function optimally, and on top of that they have to deal with all kinds of conflicts of interest within the organisation. The financing structure of the healthcare system is complex. On a political level too you are kind of in a fish bowl in the sense that everyone has an opinion about how things should be run. That makes our work very complex, but it also happens to be one of my favourite things about it. It gave me great satisfaction to help make a meaningful impact.'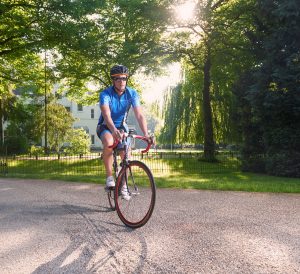 Tim on his racing bike to Baarn 
A small company with a large impact
'If you're a consultancy with a team of just 25 people and are working for all the leading hospitals and academic medical centres in the country, you can legitimately say you're a small company with a large impact, both in the Netherlands and far beyond. 'Based on our genuine commitment, we tend to achieve better results than the big players, but we do not boast about it. Perhaps now's the time to start tooting our own horn a little.'
Working together to improve breast cancer care
One of the first projects managed by Tim at Vintura was the establishment of a Centre of Excellence for breast cancer care. Three regional health institutions were looking to join forces in order to organise care for women with breast cancer (or likely to be diagnosed with breast cancer) as efficiently and effectively as possible. Read more about this project.
Tim worked at Vintura until 2019. Before joining the company, he studied Medicine, Healthcare Policy, Innovation & Management and worked as a consultant at &Samhoud.