How can we make sense of the disruptions caused by digital health?
In this article, we describe Digital Health technologies and solutions and discuss their complexities, we explain their differing levels of maturity, and we offer our thinking on how they fit into the wider healthcare context.
From tools which enable to solutions which provide
Digital technologies are at the core of every advance in digital health:
Artificial Intelligence (AI) can find patterns in data and reach independent decisions

 

Machine Learning (ML) can learn which decisions were successful and which were not based on new data and the right kind of reinforcement

 

The Internet of Things (IoT) connects different devices with each other and with the cloud

 

Big data and analytics can find key pieces of information within unstructured datasets

 

Blockchain can serve to protect identities during data transactions and ensure the privacy of individual users

 

Social media can serve to share information freely between patients, doctors, and users. 
Digital Health
As digital technologies develop, so do their applications in Digital Health, including:  
Electronic medical records

 

Applications for wellness and patient education

 

Remote consults with HCPs

 

Consumer-grade wearables 

 
These applications are increasingly able to play a role in healthcare and self-care. Some technologies  still need to find viable associated business models, while others (such as electronic medical records) have been successfully implemented in geographies across the world. Given their relatively high development and running costs, plus the organizational complexity they require in pharma companies, it is yet to be seen whether these technologies are financially sustainable in the medium term. 
Digital health solutions include apps focused on wellness, diet, sleep, mindfulness, and other healthy habits. These apps can be standalone, linked to consumer-grade wearables or the sensors in many smartphones. Patient education portals offering similar education and advice are also considered digital health tools, as are electronic health records which constitute a tool upon which healthcare delivery is based.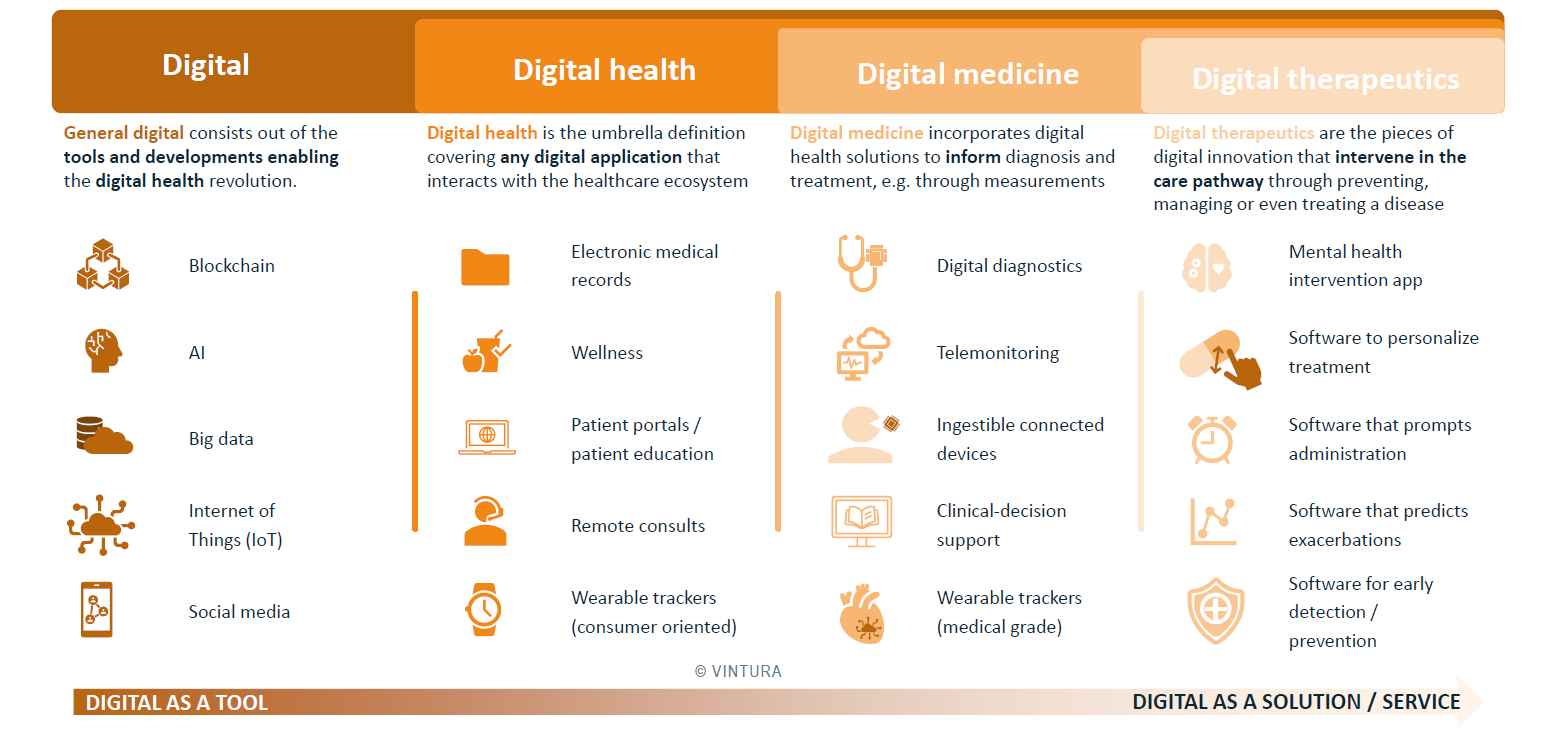 Digital Medicine
More recently, Digital Health has started playing a role in informing the delivery of healthcare. This is the point at which the concept of Digital Medicine emerges. Digital Medicine solutions are defined as those which play a direct role in informing diagnosis and treatment. These solutions can, for example, recommend appropriate treatments, monitor a patient's vitals at home or as they go about their everyday lives, and send alerts triggered by abnormal readings to the relevant HCP. 
Examples of Digital Medicine solutions range from Digital Diagnostics – which measure biomarkers in order to provide help HCPs diagnose a particular disease – to telemonitoring tools, which track the evolution of said biomarkers through treatment and recovery. These tools can obtain relevant biomarker information via wearables and/or ingestible connected devices.   
Digital Therapeutics
Finally, within Digital Medicine, the nascent concept of Digital Therapeutics (DTx) is receiving increasing attention. Digital Therapeutics are innovations which not only inform, but actually intervene, in the treatment pathway. They can – independently – help to diagnose patients, predict exacerbations, personalize regimens, interact as necessary with the patient, or even help to cure/alleviate disease or particular symptoms. This latter function is already present in diabetes solutions or mental health apps. 
Examples of Digital Therapeutics solutions range from applications to predict clinical events which are based on real-time information, to devices which prompt administration of a given therapy, to solutions which personalize treatment. The active use of patient data in decision making is key to DTx. Mental health deserves a special mention in this section, as solutions are rapidly emerging which aim to provide actual treatments for depression, schizophrenia, and other serious mental conditions.  
With evolution comes complexity
The closer a Digital Health solution lies to the healthcare delivery journey, the more it will require careful development. Complex, patient-centric solutions must be fully interoperable with a number of hospital systems, Electronic Patient Records, and other solutions. Furthermore, tools which seek to become trusted companions, help doctors reach decisions and flag up health alerts require much higher amounts of data than simpler applications. 
 Besides segmenting Digital Health by level of impact in the healthcare decision-making, as shown in Fig. 1, we can also segment it by level of interconnectivity. 
 Care is being delivered in an increasingly complex fashion, encompassing GP surgeries, specialist wards, homes, care homes and more. Multiple locations often mean multiple stakeholders, which often mean multiple solutions must work together. And the more patient-centred these solutions become, the more interconnected they will need to be. 
 Digital Health solutions can be applied locally (e.g. via a specific device in a hospital room) or virtually (e.g. a website). But however they are delivered, Digital Health solutions must make use of cloud technologies to share data with other platforms, locations, hospital systems, and other stakeholders as appropriate.  
 We can see several trends emerging: 
The simplest Digital Health solutions generally consist of either an app, a website, or a device, but do not provide a direct impact on care delivery to patients. Rather, they serve as consumer-grade lifestyle companions, patient educational programs, wellness applications and so on. As such, they do not need a high degree of integration into the care delivery infrastructure or a high degree of interconnectivity and are seldom part of treatment pathways.

 

 

Digital Therapeutic solutions which affect the treatment journey, must be highly integrated into existing care delivery infrastructure. This means these solutions will often span several interfaces: a software/web application for doctors, an app for patients, and a way to work, share, and make sense of all the data captured. The fact these solutions can affect patient outcomes means evidence requirements will be highest, as higher degrees of connectivity and impact on care delivery lead to higher cybersecurity concerns, more complex development, more requirements for interoperability, and more need for continuous improvement.

 
 Figure 2 shows the complexity in the different kinds of digital health, digital medicine and digital therapeutics solutions available.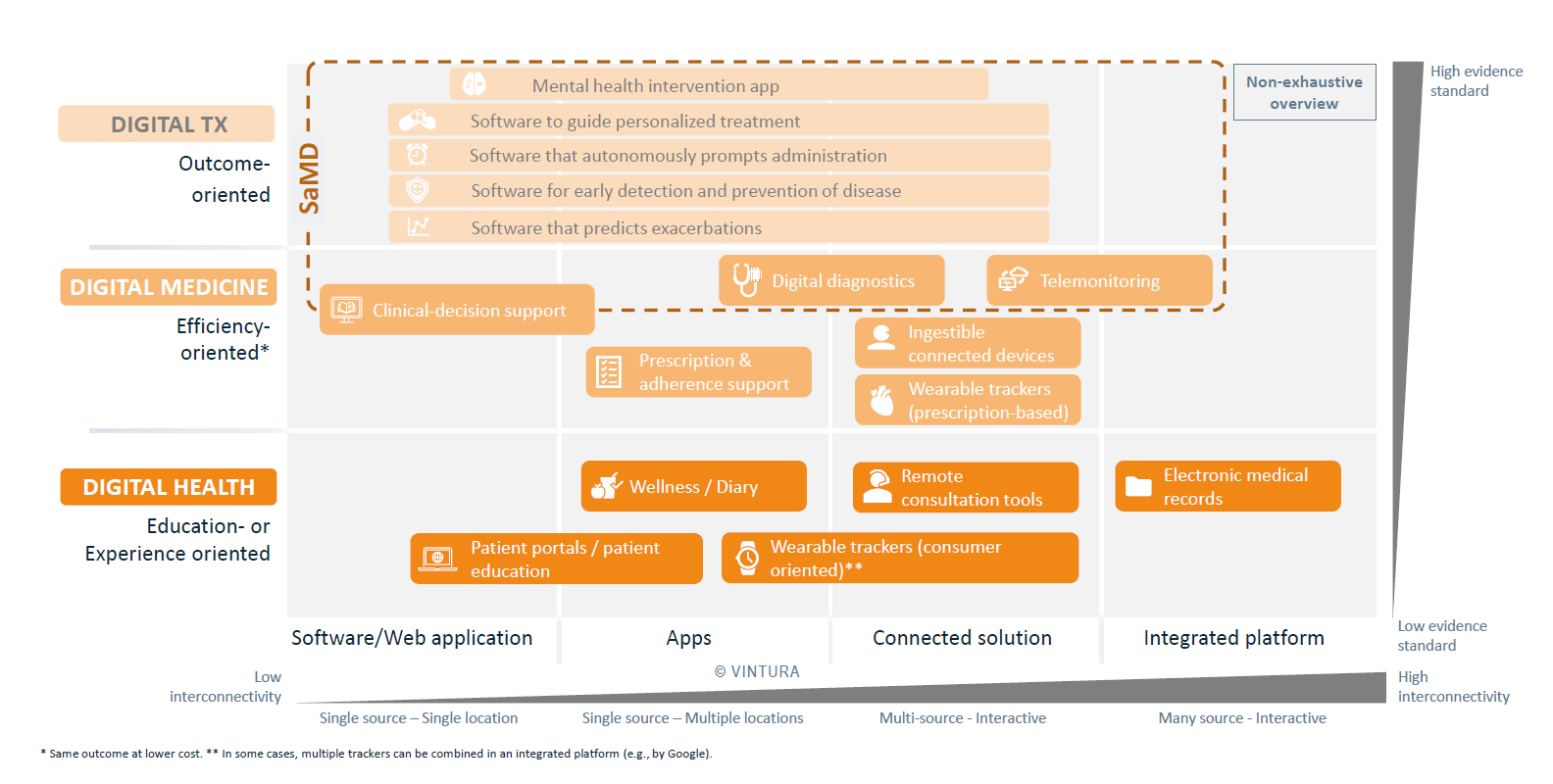 Navigating complexity in a digitized market
Healthcare is changing. Many developers are striving to make data captured by everyday tools (smartphones, smart watches etc) clinically relevant. Within the pharma, medtech and tech industries, many believe that data acquired by these devices could be incorporated into clinical research as a type of Real-World Evidence. Using this data to train algorithms in consumer- and patient-oriented solutions could lead to lifestyle improvement, early diagnosis of fatal diseases, or improved data collection for R&D. The opportunities are numerous.  
Vintura can support with developing or advancing your initiatives. We help navigate the highly fragmented reimbursement and regulatory pathways, supporting product ideation and ensuring all your stakeholders are on board during implementation. We can take you through our proven, ready-made frameworks that help you ask the right questions as you develop and launch digital solutions and find the right answers. 
Let's discuss this in the Vintura digital series
This is the second of a series of four blogs on digital health which discuss its definition, the types of offers available, the enablers and barriers for its integration in the clinic or acceptance by healthcare providers, and how the wider ecosystem will evolve in the next decade. 
Inspired to share your thoughts? Or would you like to learn more about our vision on Digital Health and the value it has to tackle current and future healthcare challenges? We would be delighted to hear from you. Please feel invited to contact Marcos Gallego, Silvia Rohr or Casper Paardekooper.
Want to read more