A patient-centric definition of digital health
 Digital health is often defined as the use of digital technologies, devices and solutions to enable, improve or optimise healthcare delivery.
Treatments are no longer just composed of a medication prescribed by a healthcare professional to a patient in order to tackle a disease. Medications are increasingly accompanied by products or services to further reduce the burden of the disease, to support the patient in the care journey, to capture data to reach better decisions, or to provide lifestyle recommendations to prevent diseases.
At Vintura we understand that in care settings, digital health is streamlining processes, access to knowledge, and the connections between stakeholders. Emerging solutions will have the power to centralise the journey of a patient across different moment of care (prevention, diagnosis, treatment, and follow-ups), across different locations (hospitals, pharmacies, home), and across different points of contact (GPs, specialists).
Other stakeholders are sensing this change: payors will soon be able to access a wealth of Real World Evidence obtained through wearables, devices and digital patient records. This has the potential to finally enable the concept of Value-Based Healthcare to be fully implemented in healthcare systems.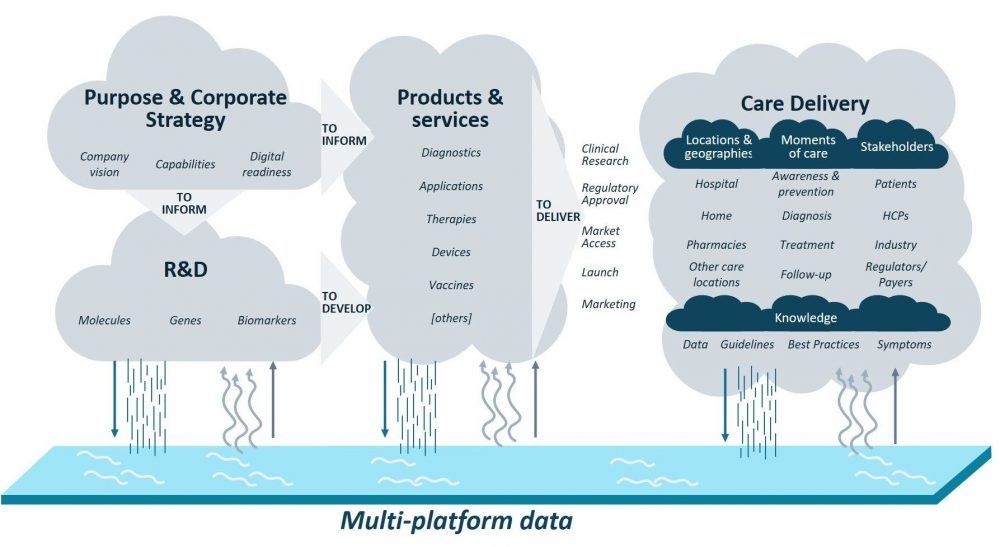 An industry-centric definition of Digital Health
However, digital health encompasses much more than the relationship between patients, doctors, payers and data in care settings. Pharma companies are witnessing how their operations, all the way from corporate strategy development and R&D, to clinical research, market access, launch and marketing are being subject to this revolution.
A solid digital and innovation strategy
A clear purpose and a corporate strategy are strongly needed to use digital health successfully. It is key to have a strong purpose to make the right calls in terms of portfolio management and investments and unlocking the full potential of the digital health. Otherwise one quickly gets lost in the vast opportunities of digital health. Given the fast development cycles of "beyond-the-pill" offers, and the increasingly fast access of medications to patients that is being enabled by innovative clinical trial models, this step should already be performed with the latest data generated in care delivery settings in full sight.
Artificial Intelligence (AI) and Natural language processing (NLP) in biomedical and digital R&D contexts
AI and NLP-enabled tools are being increasingly used in industrial R&D contexts.  AI tools, can be used for analysis of protein-ligand interaction dynamics, structure prediction in biologics, organic synthesis aid, target optimisation for molecule discovery, and mode-of-action prediction. On the other hand, NLP is enabling high-throughput scientific literature scanning.
The right digital offers
Innovative biomedical products are more and more accompanied by "beyond-the-pill" offers in the form of applications, devices, or telemedicine-based services. But it does not stop there. Digital health is not just an add-on. As advanced digital tools and services enter the care practice at hospitals, in HCP offices and at home, it is necessary to ensure that these solutions are
effective
secure
interoperable
Developing the right combination of diagnostics, therapies and digital solutions will be one of the areas where most progress will be made in the next five years.
Regulatory approval and a successful launch
As part of the launch of a healthcare-related product or service, regulatory approval will still need to be sought via clinical research. A number of start-ups are offering NLP-enabled solutions to allow for multi-centric, RWE-based clinical trials for rare diseases and therapies of growing complexity. Similarly, a strong multi-channel strategy targeting the right stakeholders in a personalised way will be needed for the correct launch of any innovative offer.
Care delivery impact
It is only through the combination of a sharp corporate strategy, a focussed R&D process, the right combination of offers, a thorough design, and a strong innovative clinical research and marketing approach, that the right products will reach the bedside, enabling patients to prevent and fight disease, and live longer, healthier lives.
Data as the great connector
Every stage of this process generates immense amounts of research, patient and corporate data. This data, if captured and shared correctly, has a tremendous potential to benefit all stages of this process: inform the development of increasingly innovative offers for specific sectors of the population, streamline diagnosis for an earlier identification of disease, and aid the selection of the right treatment for each unique patient.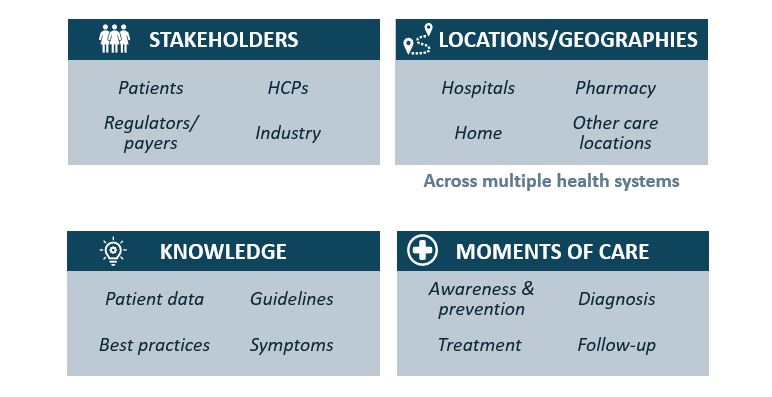 Let's discuss this in the Vintura digital series
This is the first of a series of four white papers on digital health, discussing its definition, the types of offers available, the enablers and barriers for its integration in the clinic, and how the wider ecosystem will evolve in the next decade.
Inspired to share your thoughts? Or would you like to learn more about our vision on Digital Health and the value it has to tackle current and future healthcare challenges? We would be delighted to hear from you. Please feel invited to contact Marcos Gallego, Casper Paardekooper or Richard Ogborne.