Learn how Medical Affairs is uniquely positioned to turn challenges, created and accelerated by COVID-19, into real opportunities.
The healthcare ecosystem is constantly transitioning. With COVID-19 impacting not only our lives but also accelerating this change, the healthcare ecosystem is heavily impacted. Our healthcare systems have not been designed to deal with a pandemic, which is an unpredictable, large-scale health challenge that requires urgent mobilization of resources and affects the whole population.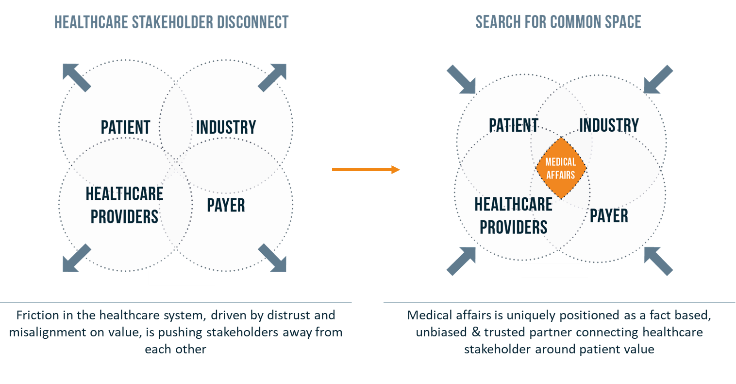 Pharma companies need to adapt and rethink their strategies, mainly due to the shift of care from hospital to new settings (e.g. home care or dedicated facilities) and also due to the acceleration of the online-offline integration. As experts with a deep knowledge of medicines, medical technologies, and (TA-specific) science, Medical Affairs is uniquely placed to help the industry and healthcare ecosystem navigate through these unusual times.
As we described in our white paper, 'Medical Affairs in transition – towards a fully integrated model', Medical Affairs is uniquely positioned as a fact-based, unbiased, and trusted partner connecting healthcare stakeholders around patient value. Therefore, Medical Affairs needs to turn challenges into opportunities by driving value-based partnerships and beyond-the-molecule solutions mainly focusing on patients.
Maturity scan for Medical Affairs departments
The leap towards this new future is substantial. Therefore, it requires a pragmatic step by step approach. In order to make this journey pragmatic, we developed a maturity model detailing three maturity steps that take Medical Affairs from a more traditional organisation, to a focused, coordinated and, ultimately, to an integrated model.