During a recent discussion with future pharma leaders, we talked about 5 major drivers that will shape the healthcare of the future. The future pharma leaders emphasized that it is important to respond to these trends and they see an important role for Medical Affairs in this.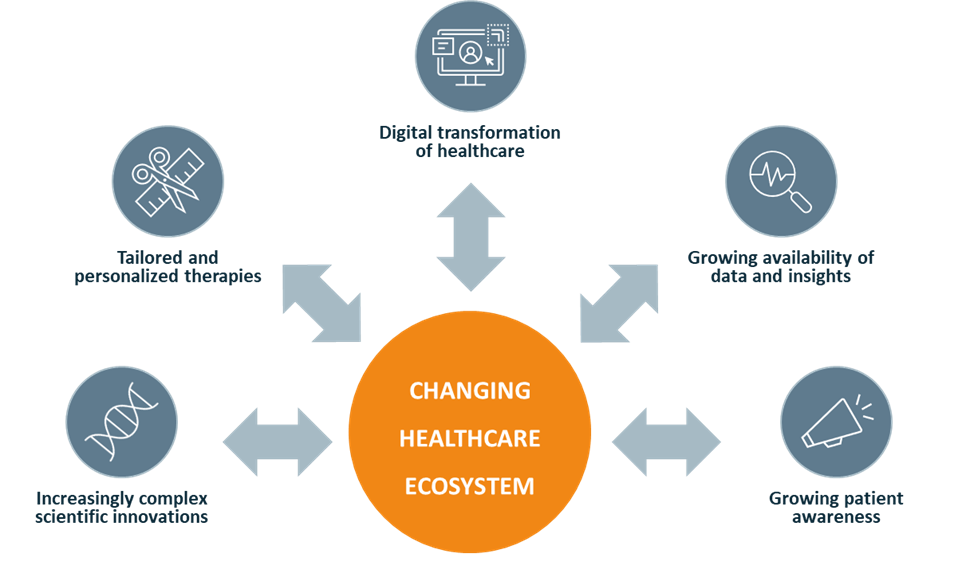 Increasingly complex scientific innovations
The last decades have been full of new scientific discoveries and innovations. These increasingly complex scientific innovations, drive a growing need to educate all stakeholders in the field. Both healthcare professionals but also payers and policy makers require more in-depth conversations to understand the value that new therapies bring.
Tailored and personalized therapies
Beyond the increasing number of innovative therapies, a trend is emerging towards personalized and tailored medicine. For an optimal efficacy, therapies often need to be tailored or personalized to the patient. This requires an extensive understanding of the nuances of therapies and patient characteristics which further increases the need for in-depth conversations.
Digital transformation of healthcare
Digital transformation of healthcare is another trend which is having a tremendous impact on our healthcare ecosystem. Digital platforms are opening an endless amount of possibilities to improve healthcare and require us to rethink our classical approach to healthcare. From digital therapeutics to digital engagements with healthcare professionals, many patient pathways can be optimized and patient's experiences improved.
Growing availability of data and insight
The digital revolution of the healthcare ecosystem is also unlocking a wealth of information and relevant data. The increasing availability of data allows for more informed decision making, but also drives a need to rethink how we look at healthcare and requires us to re-design our decision frameworks.
Growing patient awareness
The final change which is impacting healthcare is the awareness of patients. Over the last years, the growing availability of data, increased awareness and empowered patients to take more ownership of their diseases and the related treatment paradigms. More often, patients really want to understand what their disease actually means. Patients want to be involved in the treatment decisions and want to be equipped to make informed decisions. This enlarges pharma's stakeholders audience to also focus more on the patients and their caregivers.
Big opportunity for Medical Affairs to play a pivotal role in the changing healthcare ecosystem
Medical Affairs can play an important role in this changing healthcare ecosystem. In October 2019, Vintura published a white paper about the future of the Medical Affairs function (download white paper). In this paper we describe, in a pragmatic stepwise approach, how to transform your Medical Affairs organisation towards a fully integrated model. In this fully integrated model, Medical Affairs can have a real impact in the changing healthcare-ecosystem. Medical Affairs can meet the increasing need for more in-depth scientific knowledge by 1:1 engagements, medical education, and digital collaboration. Via this various approaches, Medical Affairs can optimally support stakeholders and play a crucial role in improving patient outcomes. Next to improving patient outcomes via external engagements, Medical Affairs can also improve patient outcomes via proactive engagement with internal stakeholders. Medical Affairs can establish a closer collaboration with the rest of the business and have valuable impact by being the scientific linking partner between R&D and commercial.
Altogether, there is a huge opportunity for Medical Affairs to play a pivotal role in the response to the drivers of change.
Thinking about the future of healthcare, a lot will be different in a couple of years from now. Are you interested in Vintura's vision on Medical Affairs in the future of healthcare and do you want to keep up-to-date on our latest thought leadership. Feel free to leave your contact details below to be included on Vintura's Medical Affairs mailing list.
Mailing list sign up form