Why do we support Max Foundation?
2018 is the sixth year in a row that we made a donation to Max Foundation. Why this organisation in particular? Max Foundation is committed to preventing child mortality in the most efficient and effective way. They take a commercial approach, focusing on 'Max value for money'. This means that they continually ask themselves: 'Can't we do this in a better, more innovative and more effective way?' Ewoud Ravenshorst, Senior Consultant at Vintura, has volunteered for Max Foundation for years: 'I've seen with my own eyes how the commercial approach really leads to maximum impact. That's why I'm happy and proud that Vintura supports Max Foundation.' Of each euro that they spend, € 0.88 goes directly to the project, and the Foundation keeps a close eye on the outcomes.
Max Healthy Village
The program that we'll be supporting this year through Max Foundation is Max Healthy Village. This is an innovative program in Bangladesh that aims to give children under the age of five a healthy start in life, in order to reduce the incidence of growth retardation. Max Healthy Village improves the lives of children by creating sustainably healthy communities.
If you want to keep children healthy, you need a healthy community. That's why we've made the 'Max Healthy Village' concept the foundation of our main program. In the poorest, most remote communities, we are helping to lift entire villages to a new level of well-being by implementing a combination of WASH, safe motherhood and knowledge about healthy nutrition. One of the best aspects of this project is organising growth measurement sessions for parents and guardians of young children in the village community. This is similar to the child healthcare centres that we are familiar with in the Netherlands. The public sessions have proved to be extremely effective in securing the support of the village, as well as ensuring the active involvement of and lasting behavioural change in the parents.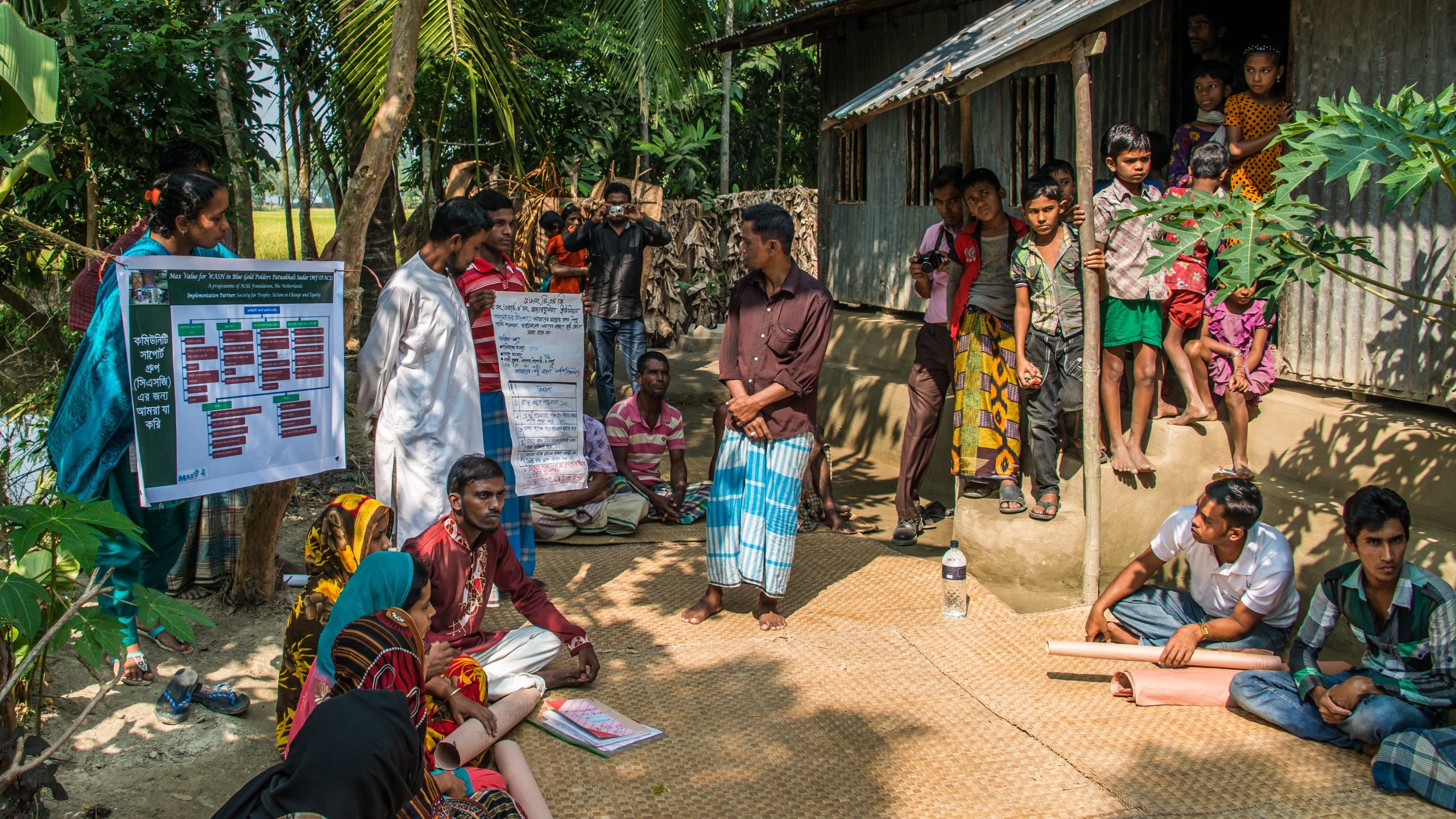 To ensure the successful implementation of the program, Max Foundation involves three important stakeholder groups: the village community itself, the private sector, and the local government. Through their involvement, their enthusiasm for the program is stimulated and they can influence the process themselves. Ultimately they will take the lead and keep the positive changes going. After the whole program has been successfully implemented, the government officially recognises the village as a 'Max Healthy Village'.
'Our programs are developed jointly with the people themselves, so that they can invest their own capital as much as possible in improving their situation. This is much more effective and produces more sustainable results than the old-school development methods,' says Joke Le Poole, founder and director of Max Foundation.
The support provided by Vintura for this programme will go to Galachipa. This is an 'Upazila' (sub-district) in the Patuakhali District in Barisal, in the south of Bangladesh. Max Foundation will be focusing on four unions – around 40,400 people – in the Upazila of Galachipa.
Other goals
Every year we put aside a sum of money to use for supporting charities or meaningful healthcare projects. Noël van Oijen, partner at Vintura, points out why it's important for Vintura to do this: 'We choose goals where we know our contributions will be helpful and make a real impact. We also feel it's important that our consultants are personally moved by these goals.'
Max Foundation is one of these goals. Another example is the help we provide to Sherpa, a care facility. Sherpa supports people with disabilities that affect living, working, learning and leisure. They have 1,500 clients, 1,500 employees and 600 volunteers. In the summer of 2018 we provided support for an afternoon, splitting up into three groups to carry out activities such as taking a walk to a farm with clients, cleaning up a walkway, and freshening up a day centre.
On a completely different level, each year we grant the Vintura Impact in Healthcare Award (NL) to the initiative that has made the greatest impact on healthcare in the Netherlands that year. In addition to the Award, the winner receives € 10,000 and five consultancy days. They can use this to improve their approach and further increase the impact of their initiative on the healthcare sector.