During the Vintura VBHC Round Table in September 2018, healthcare providers, health insurers, pharmaceutical companies and project and organisational managers gathered together to consider this question, using a VBHC case study from practice. We share the most important insights in this blog post.
Successful innovations intended to benefit VBHC generally arise at the grass roots level, with the healthcare professional. Hospitals are full of healthcare professionals who often have good ideas about how healthcare can be improved, and how innovation can deliver more value for the patient per euro invested. Ideally, this innovation takes place in three phases, from initiation to realisation and embedding (see Figure 1).
In practice, however, many initiatives never make it past the initiation phase – the great ideas and brainstorms remain unrealised. While there are also pilot projects that do get under way, it remains difficult to embed the scale-ups and improvements more broadly. To ensure sustainable success, you need to overcome three major challenges.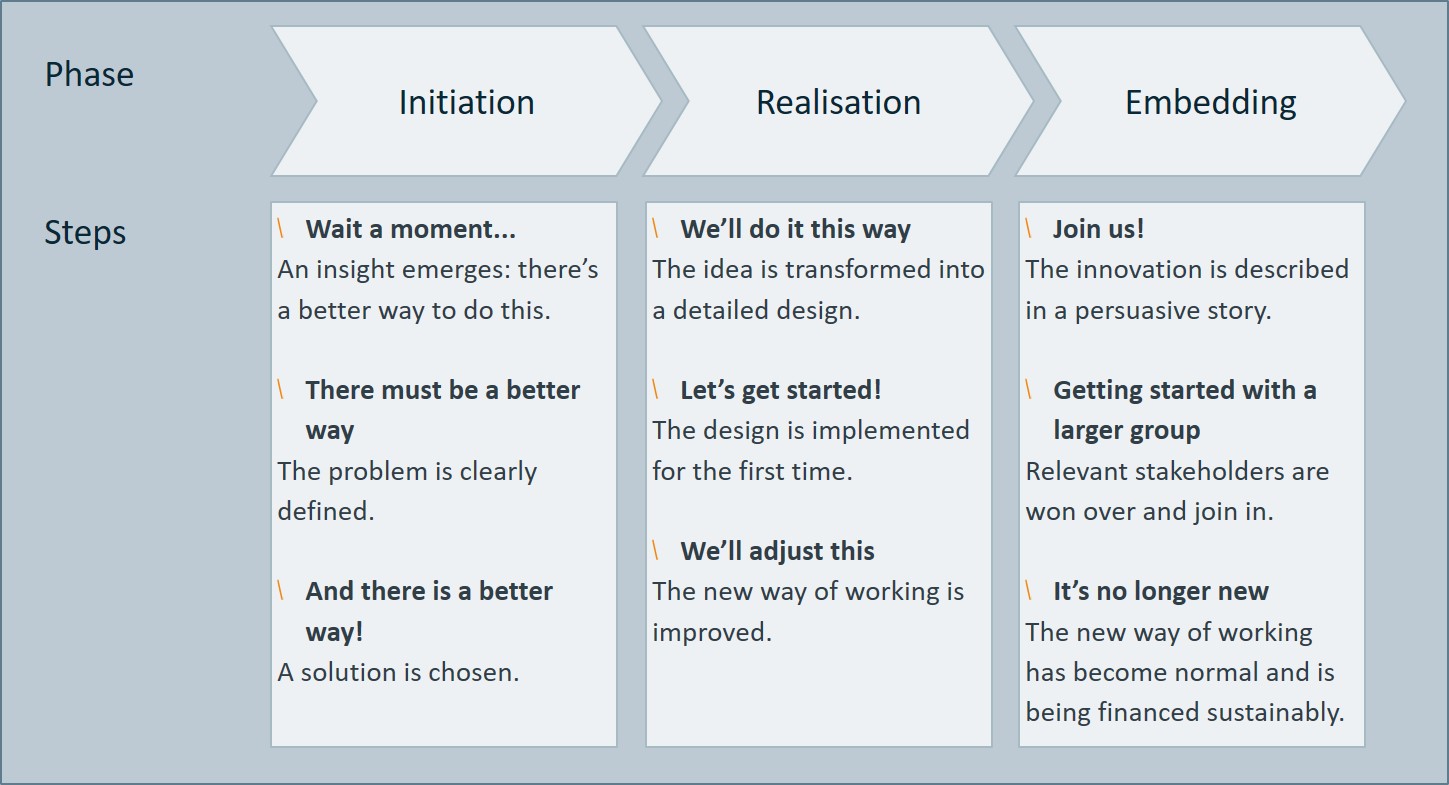 Phase 1: initiation
Challenge: I am short on time myself. Who else can I get involved?
Given the busy schedules of most healthcare professionals, freeing up time for a VBHC project is tricky. As with most projects, the investments precede the benefits. Furthermore, managing a project is not a healthcare professional's core task. A project manager or project organisation can offer a solution. As early as possible, bring in someone who can advance the project on the basis of your substantive involvement.
Many parties play a role in implementing changes in healthcare. In addition to finding a project manager and securing the support of colleagues, there are also other functions that are crucial to the eventual success of the project. During the Round Table, it became apparent that involving these parties too late is detrimental to the project's progress and final result. The relevant parties differ from project to project, but you should consider in any case:
Patients/patient representatives: to ensure that solutions are truly valuable for patients.
Hospital directors and/or managers: to gain support from within the hospital.
An IT specialist and/or data analyst: for things such as IT modifications for the benefit of registration and/or data analysis.
A legal professional: for expertise on contracts and data security.A researcher: to provide scientific substantiation for the added value.
Healthcare sales department: to consider financing options within current or new agreements with health insurers.
Think in advance about the support needed to realise your idea. What are you actually asking of the others involved, and why should they want to work with you on this? Realise that you may need to make some adjustments in order to gather the right support.
Phase 2: realisation
Challenge: I'm not receiving much support within my hospital. What now?
If a healthcare professional comes up with a concrete idea for improvement, this indicates that they have undertaken the preliminary work themselves and are therefore passionate about it. This is great news for the hospital! Encourage healthcare providers to present their ideas, and inform them about which support options are available, and what the conditions are. In the short term, VBHC project may appear to be inconsistent with the goal of controlling costs, managing capacity and combating the multiformity of IT applications. However, innovation requires adequate space for chaos and waste, in order to make healthcare better and more sustainable in the longer term.
Sometimes, things don't go the way you'd hoped: as a professional, you've stood up for an improvement, but haven't been able to organise the necessary support. You now have two options: letting your idea die a graceful death, or looking for support from external parties with a shared interest. For example, this could be a government agency that grants a subsidy for an initiative, an insurer, or a pharmaceutical company. This was the case with the IBDream story. In practice, there are a range of options out there!
Obviously, support from colleagues is ultimately crucial. Provide timely information about the objectives of the project. Keep colleagues informed about progress and present the outcomes of the pilot.
The same thing applies to all stakeholders involved: take the time to get to know each other, and each other's interests and language. Realise that you won't recruit everyone that you want to. Sometimes you have to work around the resistance, and you can try again at a later stage.
Phase 3: embedding
Challenge: The pilot was successful. How can we get sustainable financing to scale it up?
"We receive more than 100 applications a week for funding for an innovation" – an insurer, during the Vintura Round Table.
Initiatives are frequently too small to qualify for individual reimbursement from the insurer. Alternatively, there may be multiple suppliers on the market from which the insurer cannot or does not want to choose. A healthcare vendor can then discuss options such as long-term contracts or outcome-based payments. Within this, space is created for the hospital to invest in new ways of working. In order to get this space within the hospital, it's essential to have a convincing story with a clear cost-benefit analysis. An outsider who asks critical questions and formulates a clear business case can provide a solution here.
It often happens that several similar VBHC initiatives develop around a particular medical condition. This is also the situation with the case for IBD patients described below; IBDream and MijnIBDCoach are now both available, each serving its own group of IBD patients. This is not a problem, because having a little 'competition' often helps to further improve an initiative. However, it is important to seek synergies and join forces in a timely manner. This is in the best interests of all of us, but above all, in the interests of patients.
In short, upscaling VBHC initiatives beyond the pilot phase requires the right kind of financial and other support, time, and perseverance. The case described below illustrates that it pays to persist, and thus to contribute to better, more affordable healthcare.
Case – 'IBDream: better healthcare for IBD patients'
Initiation – 2011: Better IBD care is possible
Three passionate gastroenterologists want to be able to measure relevant outcomes for patients with Inflammatory Bowel Disease (IBD). The aim is to optimise the treatment, including the use of expensive medications, in a way that suits each individual, and to keep healthcare affordable. The existing, separate registers are not patient-oriented and do not measure comparable outcomes.
It was a challenge for the doctors involved to manage this project in addition to their regular work. By setting up a foundation for which they served as the board themselves, they were able to attract external funding. In recent years IBDream has been sponsored by several pharmaceutical companies* (AbbVie, Celgene, Takeda, Pfizer, Janssen, Dr Falk, MundiPharma, MSD) and ZonMW, a government agency that funds health research. These resources enabled the IBDream Board to engage external expertise (including legal), and take on a PhD student to carry out research into capitalising on the added value of IBDream.
Realisation – 2016: promising results
Since 2013, the IBDream team has expanded to include five hospitals that have joined forces. The first patients have been included in IBDream, a personal online patient file and register. To accelerate matters, the group is seeking to connect with the existing DREAM register for rheumatism patients, among others (MijnReumaCentrum.nl).
The doctor and patient enter biomedical and patient-reported outcomes (PROs) into the system. Clearly laid out dashboards enable the doctor and patient to monitor disease progression together. The patient has better insight, enabling shared decision-making. The insight into outcomes and costs across the entire patient population means that doctors can focus on value and make substantiated treatment choices.
But these insights are not only valuable to the doctor and patient; they also benefit pharmacists by better enabling them to develop innovative IBD therapies and provide them in an efficient way: what works for whom, and why? For these reasons, IBDream has been sponsored by several pharmaceutical companies over the years.
Embedding – 2018: time to scale up!
Two thousand patients from five hospitals have been included. IBDream now complies with the most recent eHealth standards. The aim is to reach as many as 5,000 people by 2020, by having another five new hospitals join the scheme. Pharmaceutical company Janssen is supporting the IBDream hospitals in realising this ambition, and Vintura consultancy has provided the project management.
The next step, Project IBDream 2.0, is now under way, and involves extending the scope and content of the register. An innovative, simple PROMs questionnaire makes perceived health measurable and further emphasises value for the individual patient. In addition, user-friendliness will be improved by measures such as implementing an automatic link with the EPD.
Janssen is providing financial support for the IBDream 2.0 project, and Janssen and Vintura are both sharing their expertise and tools with IBDream to promote innovation and improve healthcare. In this, they are motivated by their mutual ambition to contribute to value-driven healthcare as a way of keeping healthcare both affordable and innovative.
Future: Sustainable business model
Up until now, investments in IBDream have been realised through sponsorship and subsidies. Now that IBDream is largely developed, the next issue is how to sustainably fund this online dossier. Who is going to pay for:
The initial link with the EPD?
The introduction of IBDream in departments?
The fee per patient included?
The maintenance and optimisation of IBDream?
Part of the costs are already being recouped by making data available to interested parties. A sustainable business model may also require additional funding from parties that benefit significantly from IBDream, such as hospitals and insurers.
In short, a number of steps still need to be taken in order to sustainably embed IBDream. This not only requires effective cooperation with the five connected hospitals and with insurers, but also a good dose of the quality with which the project started in the first place: a passionate desire to improve healthcare for IBD patients.