Lees in het Nederlands
Back to overview
In conversation with Bart-Jan van Hasselt: 'Work-life balance: not just a buzz phrase'
'When I came home after my first job interview with Vintura, my wife asked me: "What happened to you? You're literally glowing!". The combination of the people, the open and transparent culture, the focus on personal development and working with international pharmaceutical companies made me feel immediately at home there.
Work-life balance
'Before joining Vintura, I had a hard time achieving a healthy work-life balance: I would routinely work too hard and was always trying to prove myself. It was soon clear to me that things would be different here at Vintura. During my very first week here, partner Bas Amesz and I had been invited for an introductory meeting with a client. That morning, Bas texted me to say he wouldn't be able to make it that afternoon, as he had to pick up his kids from school. I actually had to read his message three times… Did this really mean that family comes before the client? I was kind of shocked, but the client was a good sport about it and had no problem with it at all. I knew there and then that a good work-life balance really means something here and that they're not just paying lip service.'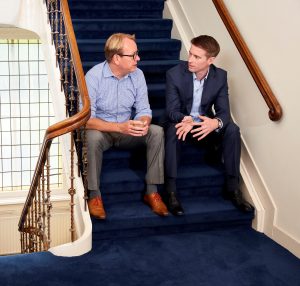 Bart-Jan at work and at home with his family
'Soft' side
'I would consider myself pretty ambitious. For me that means I want to keep developing myself: every day and in every way I can. I get really restless when I feel I'm not really achieving anything. So I was pretty thrilled to be invited to participate in the Leadership Development Program, which is designed for Vintura consultants with above-average consultancy skills who still need to work on their "soft" skills: that is to say, communication and interaction, personal effectiveness, and leadership. I particularly want to develop my leadership skills, so I can use my personal leadership to improve other people's lives. I think you need to learn that first before you can call yourself an effective leader.'
Solution-oriented approach
These types of skills are required for a project I recently managed. We were running a Talent Development Program for a number of international teams from Africa and the Middle East (e.g. Turkey, Egypt, Lebanon, Algeria, Dubai, Kuwait, Kenya and Ghana) on behalf of a large pharmaceutical company. The project combined aspects of problem analysis, teambuilding, brainstorming, storytelling and leadership development. You end up having discussions on important topics with people from completely different cultures. It has certainly been an enlightening experience for me, and I've found that I can really contribute by sharing my own experience in conceptual and solution-oriented thinking.
Portfolio analysis is also about people
When Bart-Jan and his team members completed a portfolio analysis earlier this year, he described it as a "pretty cool consulting process." An international pharmaceutical group enlisted Vintura to assist with the analysis of the overall European portfolio, so as to explore in what areas it might be possible to deliver added value.'We worked with the client to investigate the types of medications they were marketing, what other products the group was developing, and what the implications would be of the launch of a large number of new medications.
What might be interesting product-market combinations, what is worth investing in, and where might investment funds be reallocated? While this type of analysis might seem to be all about the bottom line, we're obviously dealing with people as well. You might have to tell a product manager, for example, that there are sufficient alternatives to their product and that we are going to discontinue it. The reactions you get from people can be very emotional, so that's something else a consultant needs to deal with sometimes.'
Solutions created together
'As part of another project, we worked together with the client's Benelux management team to make an analysis of their global multi-year launch programme and its impact on their Benelux organisation. We brought together people from different levels of the organisation, which taught us a great deal about the various interdependencies involved. It gradually became clear what impact the large number of new product launches had on the organisation and its direct stakeholders.
The new partnership led to a new drive to implement the solutions we designed together. The upshot is that the client is now extremely well prepared for the new product launches, and the good news for patients is that newly developed medications now become available without any delays.'
Value-Based Healthcare
'In projects such as this one in the pharmaceutical industry, it might appear, on the face of it, to be all about money. But what it's essentially all about here – as is the case with projects carried out for hospitals – is creating added value for patients and society at large. It's good to see that these two sectors are increasingly teaming up together, including as part of Value-Based Healthcare, for example by exploring together how they can improve the care cycle for patients.
Read more about working at Vintura in our candidate pack or Vintura's VBHC-projects. 
Bart-Jan joined Vintura in October 2012, currently working as a Principal Consultant. He previously acquired around 10 years of experience at Monitor and A.T. Kearney.