Lees in het Nederlands
Back to overview
Support for the Max Foundation gives meaning to the Vintura mission
By supporting two good causes in the healthcare sector, we give real meaning to our mission, 'creating meaningful impact in healthcare together'. One of these good causes is the Max Foundation. Read this blog to find out why we are committed to this organization.
Max Foundation provides clean water and better hygiene
Every day, around 18,000 children aged five years and under die from conditions that are easily preventable, such as diarrhea and dysentery. The Max Foundation is aimed at preventing infant mortality in the most effective and efficient manner.
To achieve this, the Max Foundation provides clean water and sanitation in the form of wells and latrines, but also by training the local population in hygiene, eating healthily, and giving birth safely. It carries out its work in Bangladesh, one of the poorest and most densely populated countries in the world. The local people's needs are considerable, but many lives can be saved with few resources.
The approach of the Max Foundation is business-oriented and aimed at 'Max value for money'. This means that they are always asking themselves, "Can things be done better, in a more innovative manner, and more effectively?" and then refining them.
Business-oriented approach leads to maximum impact
Vintura consultant Ewoud Ravenshorst says, "I have worked as a volunteer for the Max Foundation for many years, and have been able to see with my own eyes how the business-oriented approach really does lead to maximum impact. The effort that goes into preventing unnecessary expenditure and limiting overheads, without it affecting the professional standards of the foundation, is truly admirable. For every euro, €0.93 goes directly to the project and the foundation is managed very tightly around outcomes. That is why I am so pleased and proud that Vintura has been supporting the Max Foundation for so many years. Thanks to our help, several villages have been able to improve their living conditions, and we have made a significant contribution towards preventing infant mortality."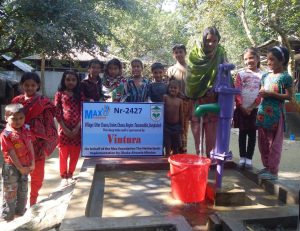 Read more about the good causes that are able to count on support from Vintura.